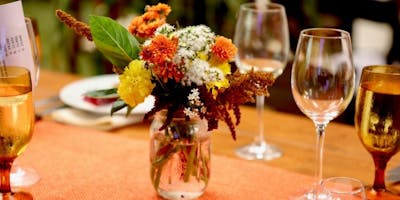 2019 Harvest Dinner Fundraiser and Auction at Land's Sake
Mark your calendars for September 14, 2019 to celebrate another successful season at Land's Sake! Our fall fundraising dinner is hosted on the farm to reinforce the connections between you, this special place, and all that Land's Sake does. The Harvest Dinner is our chance to celebrate Land's Sake's great contribution to our community by giving back to ensure its programs can thrive and grow. 
Feast on a delicious farm-to-table meal by Forklift Catering. Celebrate community with friends in the beautiful fields, groove to live music and bid on items big and small, from homemade pies and fine wine to our live auction with Land's Sake farm events and fabulous experiences and getaways!
To learn more and sign up for a Leadership Package, click here or click on the green tickets button on the upper right.
Individual tickets will go on sale August 1 at 10 am. Included in your ticket is a donation, which may be tax-deductible,  to help support all of Land's Sake's programs and farming in the heart of Weston. 
Tickets are non-refundable, but transferable. If you can't attend, please contact us at your earliest convenience at info@landssake.org.
If you'd like to volunteer for the event, please contact Meghan Balbale at meghan@balbale.com or Steffany Doolittle at steffanydoolittle@me.com.
For information about customized sponsorship packages for businesses and organizations, please contact Land's Sake Executive Director, Pam Hess pam@landssake.org.