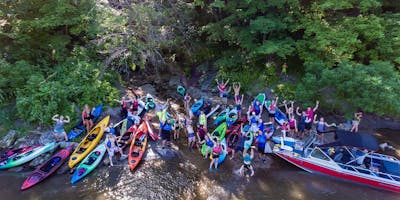 2nd Annual River Cleanup
Blue Earth Project and Bent River Outfitter are teaming up again to preserve our local waters and we need your help!

Join us as we float the iconic Blue Earth River from Rapidan Dam to County Rd. 90 and stop off along the way to pick up litter and enjoy locations such as Triple Falls and Devil's Gulch.

Enjoy 50% off boat rentals, round trip shuttles, and guide services by purchasing your event ticket below!

Admission starting at $10. Proceeds go to waste disposal!

To reserve a boat or shuttle from Bent River Outfitter visit the Eventbrite ticket option above.

----------------------------------------------
WHAT TO EXPECT!!

Presenters:
Intro to Paddling and Safety
Paul Ebbenga of Blue Earth Project
Seth Yocum of Aqualogical Resources

After Float Party at The Hub:
Galactic Grub Food Truck
------------------------------------------------

To save time on day of event, PLEASE FILL OUT THE WAIVER @ https://smartwaiver.com/w/592dee457c015/web/

Where to meet? Do you have a shuttle ticket?
For those who reserved a shuttle, check-in is from 10:30-11:00 AM at Bent River Outfitter. If you have your own equipment and do not need a shuttle please meet us at the Rapidan Dam landing at 11:30 AM.

How long is the trip?
There will be a short presentation at 11:45 AM at the landing prior to our NOON DEPARTURE. We will be floating on the Blue Earth River from Rapidan Dam to the Ft. Lehillier landing behind Mt. Kato. We expect to arrive there prior to 4PM.

What's the occasion?
This will be Blue Earth Projects 2nd Annual clean up trip after adopting this very portion of the Blue Earth River through the Conservation Corps of Minnesota and Iowa.

What to bring?
Reusable bottles for your beverage, snacks, sunscreen, towel and extra clothing for after float activities. Gloves and bags will be provided for trash pickup.

This event is rain or shine!