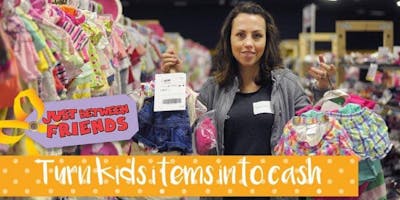 Consignor Ticket-Fall 2019- JBF Rochester
Kids outgrow clothes and toys quickly!
We invite you to join the movement of moms and dads across Rochester and Southeast Minnesota who sell their outgrown kids items and toys and shop for their own kids at Just Between Friends.
At the fall sale, shoppers will be buying baby equipment and accessories, fall and winter clothes, fall and winter jackets, shoes and boots, books, electronics, spring sporting goods, and toys!
Swimwear and shortsleeves for size 5T and Up will be accepted at the Fall event.

Consignors earn 60-70% on sales, pay $15 to participate and get to shop FIRST (before we open for public shopping).
To sell your items:
1. Visit https://rochester.jbfsale.com/SellView and check the consignor box to tell us you want to sell with us!
2. Purchase your Consignor Ticket.
3. Select your Drop Off Time.
Consignor tickets are NON REFUNDABLE. If you decide not to consign, you will lose this fee.
Pictures showcase our events best and throughout the sale we will be taking pics to use both in print, on our website and in our social media. As a consignor, I give permission for photos taken at the sale to be used in future advertising, either in print or on social media.
FAQs
What percentage do consignors earn at JBF?
Consignors earn 60% on their sales. If you are able to help with one four hour shift during the event, then you earn 60% + 10% = 70%!
When do I drop off my items?
When you purchase your consignor ticket you will choose the drop off time that works for your schedule.
We have drop off times every 15 minutes on the following days:
Bringing MORE than 300 total items: Monday, Sept 9, 3pm-7pm
Bringing LESS than 300 total items: Tuesday, Sept 10, 12pm-4pm
How do I get my consignor check?
Consignor checks are sent by Email within two weeks following the sale.
What if I have questions regarding tagging?
Join our JBF Rochester Savvy Selling Mama's facebook group for lots of tagging and pricing tips!