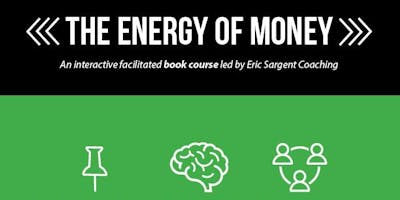 The Energy of Money Book Course
About the Book Course: Want to change your money mindset? Looking to align your values with how you use money? Trying to get into a better pattern with how you track your finances? Join us for an interactive facilitated book course led by Eric Sargent Coaching and the Boston Money Book Club. Over the course of 6 meetings (every other week), participants will read sections of the book, The Energy of Money, gain tools to better understand their current brain's response to money, get clear in the areas of their life they want to focus on, and support each other throughout the process.
Dates of the Course: Every other Wednesday starting in September! 
September 4th  6pm-8pm 
September 18th 6pm-8pm
October 2nd 6pm-8pm 
October 16th 6pm-8pm 
October 30th 6pm-8pm
November 13th 6pm-8pm 
About the Book: "The Energy of Money is empowering and exciting. Anyone who has ever been concerned about money will find both the cause of the problem and the solution in these pages. I thoroughly enjoyed the practical and eye-opening exercises throughout the book. They are very effective at getting to the heart of our relationship with money and healing it." –Christiane Northrup, M.D.
The book will focus on tools focused on how your life relates to money, it does not cover specific budgeting, investing, or other money management techniques. Instead, it focuses on how you think about money and provides some tools for creating a meaningful personal and financial life. 
About the Author: Maria Nemeth, Ph.D., is a clinical psychologist with more than twenty-eight years' experience, a former clinical professor in the Department of Psychiatry at the University of California-Davis School of Medicine, and former columnist for the Sacramento Business Journal. Her "You and Money" seminars have helped thousands of people to create ongoing affluence and financial ease.
Sliding Scale: We charge a sliding scale fee to use the energy of money as a tool. A book course is more fun, engaging, and supportive when people show up. Paying is your demonstration of committing to the book course and getting the most you possibly can out of it. This also helps to cover costs for facilitating and running the group. The sliding scale works on the following suggested income tiers. You do not have to disclose your income, just access your situation and choose the level that is a stretch but not a hardship for you. 
$0,000  - $24,999       $2.50 a session/ $15 for the course   
$25,000 - $49,999       $5.00 a session/ $30 for the course 
$50,000 - $69,999       $10.00 a session/ $60 for the course 
$70,000- $89,999        $15.00 a session/ $90 for the course 
$90,000- ++++++        $20.00 a session/ $120 for the course 
A note from Eric: This book changed the way that I think about and use money. Before becoming exposed to the tools and principles in it, I avoided checking my bank accounts, felt guilt every time I thought about how I was using money, and would regularly have scary moments scrambling together to figure out what happened at the end of the month. The tools in this book have helped me to get more clear in the purpose behind money. I know I am going to have another breakthrough out of reading this time and if you see it is a fit I am excited to have you join this book course.
How to Register:
1) Schedule a 15 min chat to see if its a fit for you
2) Buy Tickets on Eventbrite 

More Info: 
FAQ and more info on the Boston Money Book Club