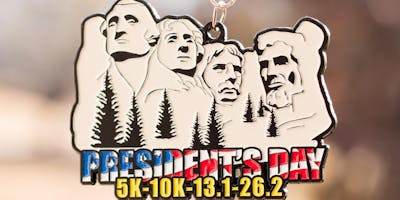 Now Only $12! 2019 President's Day 5K, 10K, 13.1, 26.2 -Minneapolis
President's Day 5K, 10K, 13.1, 26.2 - Now only $12!
*THIS IS A VIRTUAL RACE!
Monday, February 18, 2019 was President's Day! Washington's Birthday is a United States federal holiday celebrated on the third Monday of February in honor of George Washington, the first President of the United States, who was born on February 22, 1732. We are celebrating President's Day with a Mt. Rushmore themed medal!
February is also heart month, so we're donating a portion of each registration to Save A Child's Heart, an amazing organization with the mission of improving the quality of pediatric cardiac care for children in developing countries and creating centers of competence in these countries. SACH's goal is to improve the health and welfare of all children, regardless of the child's nationality, religion, color, gender or financial situation
What:  This is a virtual race. You choose to complete a 5K, 10K, 13.1 mile or 26.2 mile run/walk.  You complete your race on your own and submit your time to us.  Then we ship your medal directly to you.
When: Complete your race anytime in 2019!

*Medals and bibs will ship within 2 to 5 days of signing up.
Where:  You choose the course and you time yourself (you'll report your finishing time to us).
Why:  To celebrate all of the great Presidents!

COST:  $20, which includes your medal, official bib and shipping.  Plus, at least 15% of every entry will be donated to Save A Child's Heart,  *We are in no way affiliated with this charity, we like to choose a different charity for each of our races and are happy to raise funds for them.  
WHAT IS A VIRTUAL RACE? A virtual race is a race that can be run (or walked) from any location you choose. You can run, jog, or walk on the road, on the trail, on the treadmill, at the gym or on the track (or even at another race). You get to run your own race, at your own pace, and time it yourself. Run on your own, or with friends! And your medal will be shipped directly to you. Complete a virtual 5K, 10K, half marathon and more!