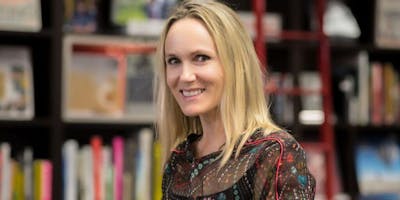 Fall Evening Literary Seminar Series
2019 Fall Evening Literary Seminar Series

Best-selling author, Ph.D. and former adjunct professor at Berkeley, Kimberly Ford is eager to explore four extraordinary books selected for the fall 2019 seminars!
Midway between the warmest of book clubs and the most elucidating lecture, Kimberly's seminars entertain, inspire and help you read better. Combining a deep dive with insightful explication into each novel, Kimberly helps her readers delve more deeply into novels in a relaxed and entertaining 90-minute session.

Come for one meeting or indulge in a slightly richer experience (and save a little money) by signing up for all four. Books are included in the price of the seminars and should be picked up at Kepler's (and read) prior to the meeting date.


4 Seminars included in the Series:
*   Strong Poison, by Dorothy Sayers -  Monday, August 26, 7:00 pm
*  A Book of Common Prayer, by Joan Didion - Monday, Sept. 23, 7:00 pm  
*  Bark, by Lorrie Moore -  Monday, November 4th, 7:00 pm
*  What Maisie Knew, by Henry James - Monday, December 2 - 7:00 pm 
 Ticket Information:

$160.00  Complete Series
Includes all four books for each seminar
$48.00  One Seminar
Includes a copy of the book being discussed at the seminar

Refreshments served
Strong Poison, by Dorothy Sayers
Join this seminar as Kimberly tackles her first ever mystery! Strong Poison, published by Sayers in 1930 (the heart of the "golden age of mystery") isn't just a sleuth's dream, but a novelistic tour de force. Writing with delightful modernity, Sayers brings intelligent, hilarious characters fully to life with her gorgeous prose. After digging in to this one, you'll want to read all the mysteries in Sayers's Peter Wimsey series. Critics Barzon and Taylor say it best when they call Strong Poison the "highest among the masterpieces. It has the strongest possible element of suspense—curiosity and the feeling one shares with Wimsey for Harriet Vane. The clues, the enigma, the free-love question, and the order of telling could not be improved upon. As for the somber opening, with the judge's comments on how to make an omelet, it is sheer genius." Come figure out not just whodunit but how Sayers writes so compellingly.
A Book of Common Prayer, by Joan Didion
Joan Didion published this taut, gorgeous, suspenseful novel in 1977 but her depiction of corruption and conflict in Central America provides a fascinating window into issues playing out today. Our "heroine" Charlotte Douglas escapes Berkeley, leaving behind a failing marriage, a boldly problematic daughter and stifling socialite expectations—only to find further complexity. Whether you are a devotee of Didion—literary icon, political seer, hyper-intelligent essayist and rebel for all time—or whether this is your first of her books, do yourself a favor and explore the novel that Kimberly thinks is her finest. The "only flaw" that the New York Times found with Didion's "most ambitious novel" is that it could have been longer. You will feel the same way once you've entered the incredible, haunting world she creates.
Bark, by Lorrie Moore
If writing a novel is hard, the short story is next to impossible. Unless you're Lorrie Moore. One of our most talented, most grounded, most hilarious and incisive writers, Moore has this amazing ability to combine humor with the really big issues that are precisely the reason we read. Treating us to everything from an "evil lobbyist" to a mom and teen-daughter duo attending an unforgettable wedding, this slim collection will resonate deeply with any reader who's ever been in any kind of relationship with any other human being. Moore delivers wisdom and an unflinching look at middle age, parenting, 9/11 and other aspects of life via language that is maybe the finest we will read this fall. Treat yourself to this darkly funny, entirely original literary voice.
What Maisie Knew, by Henry James
It is SO GRATIFYING to dive into a classic and find it shockingly real and relevant and incisive and witty and engaging. Famously, What Maisie Knew is this tale of a nineteenth-century London divorce from the perspective of the young Maisie who is shuttled between parents who are WAY less discreet than they think they are. It's no wonder that Julianne Moore and Alexander Skarsgård starred in a 2012 film version, given that the novel speaks so aptly about marital and sexual tensions that have changed very little since 1897. Contemporaneity aside, readers will be delighted by how different one feels when reading James's distinctive Gilded Age prose, not to mention the fun of entering a truly distinct historical era. Plus London! Join us as we tackle this delightful classic.