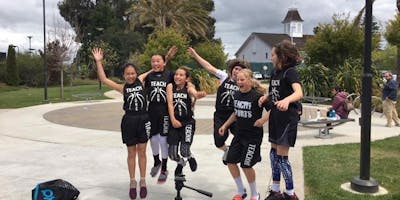 Fall 19' AAU Girls Traveling Team
Pride and Family, thats what our program is all about. Join our Basketball Program to see what it takes to be in an elite group of young women who compete against California's best basketball players. 
Our program is known for playing fast, full court, and with Pride. We work hard for each other to enjoy the best experience basketball has to offer.
It's not all about winning and losing, but doing something well makes the experience more enjoyable.
Girls Age Groups
2nd - 3rd
4th - 5th
6th
7th - 8th
9th - 10th
Tryouts are August 25, 10am (location announced once registered)
4 Tournaments Between Sept. 1 - Nov. 3


9/14 - 9/15 San Francisco


9/28 - 9/29 Santa Clara


10/5 - 10/6 San Francisco


10/19 - 10/20 Eastbay




Cost: $900 for the entire season August 25 - November 3
Costs cover weekend tournaments, practice facilities, coaches stipends, jerseys etc
Plus weekly Open Gyms
When are practices?


Each team will have two practices a week.
Girls 2nd - 5th Mondays or Tuesdays and Thursdays 430-630pm for 1.5 hours.
Girls 6th - 10th will practice Tuesdays and Thursdays between 6-9pm for 1.5 hours.
Specific times to follow after registration.
How do the weekend tournaments work?
There will be two games Saturday usually AM games and Sunday will be 1 game depending on how we do Saturday per tournament.
Will my son/daughter get playing time each game?
All kids will play each game. Effort/attitude/hustle will be the difference from the kids who will play a majority of the game. Playing time is at the sole discretion of the head coach.