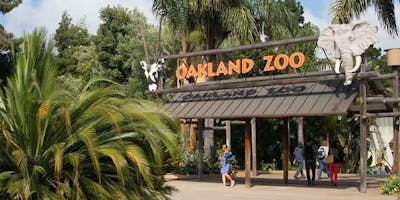 Oakland Zoo Volunteer Event - August 17, 2019
Oakland Zoo Volunteer Event, August 17
The East Bay Haas Alumni Network Chapter invites you to spend a day volunteering at the Oakland Zoo, where we will work on habitat restoration and landscape management projects.  It will be a wonderful way to enjoy a summer weekend morning with fellow Haas alums, helping to make important improvements to the Zoo.
Date:            Saturday, August 17, 2019
Time:            9:00am - 12:00pm
Location:     Oakland Zoo                        
                      9777 Golf Links Road                        
                      Oakland, CA 94605
Who can participate?



Any adult may participate and help this watershed thrive.




One adult chaperone is required for every 8 youth volunteers, 15 years and younger.




Youth 16-18 may participate without a chaperone, but must have their parent or guardian sign the Volunteer Liability Release Forms.



What forms will I need?


All participants must complete and sign a Volunteer Liability Release form.


All participants must complete and sign an Adopt a Spot Waiver and Liability Release form.



All youth under 18 must have their parent or guardian complete and sign BOTH forms prior to volunteering.




Volunteers are encouraged to read these forms in advance to ease the check in process. All forms must be completed before any individual may volunteer.





What will we do?


All volunteers must

arrive by 9am

for a brief introduction to the Arroyo Viejo Creek, that day's project, safety, and proper use of tools.



We work on a variety of tasks that may include: picking up garbage, pulling invasive species, spreading mulch, moving materials, cleaning signage or planting native plants.






The projects are 100% outdoors

.






Have fun! Our primary goal is a good time.



When do I arrive, where do I go, and where do I park?


We begin promptly at

9am

at the creek sign by the entrance of the restoration project area. There will be a check in table.



Drive in through the Zoo's lower gate at 9777 Golf Links Rd.




If there is someone at the gate, tell them you are here to work at the creek. You will not be charged a parking fee.




You will park in the lower lot or on the lawn. An email will be sent out the week before with instructions.



Please see the Arroyo Viejo Creek Map. Arroyo Viejo Creek Meeting Place



Volunteers should leave all valuables at home. Please remember to lock personal items in your car trunks and lock your cars.




Remember: You are working at the Creek near the Zoo entrance, NOT with Hand on Bay Area which meets earlier by the Lower Entrance ramp.



What should I wear and bring?



Please dress for the weather, which can range from very warm to very cold and rainy.




Bring sun hats, sun protection, layers, shoes that can get dirty, gloves, a water bottle, and a snack. There are NO drinking fountains close by!




Close-toed shoes with good grip are highly recommended.




We provide tools, but volunteers are asked to bring their own gloves.



When do we end?
At the end of the event, volunteers will receive:



A wrist band which allows for free admission to the Zoo for the rest of the day. It is only valid for the day of volunteer service.




With the wrist band, volunteers will also have the opportunity to take one ride on the train and the skyride (when running) on the day of their volunteer service.



Volunteers may also bring their own cup or bottle to get a free soda from the soda machine at either Tuskers Café (Main Entrance) or Landing Café (California Trail).
Getting to the meeting location and parking can be confusing, so print and bring a copy of the Zoo map and the directions to the meeting location.
If you get lost or arrive late, please call Dean Suzuki, 925-212-1137.
Registration Fee: Free



There are limited slots, so please register soon.




If registrants are under 18, they must be accompanied by an adult.




There are several cafes inside the zoo where food and drinks can be purchased.



For more information, contact: Dean Suzuki, dean.suzuki@gmail.com