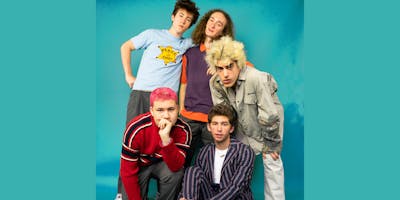 An Evening with LAUNDRY DAY
This early show is All Ages.
Doors open at 7 PM. Show at 8 PM. Show ends by 9:30 PM.
LAUNDRY DAY, a New York based band made up of 5 juniors in high school. Formed in the summer of 2017, the boys started off purely as a production group until getting knee deep into the creation of their first LP, "Trumpet Boy" that Fall. They proceeded to continue with the album while booking their first show at Rockwood Music Hall in February 2018. That, and the album's release in March, launched the boys into production of a follow up EP "Light Up Shoes" in April, and another album release, "Keep It Bright" in June. Not to mention, two more NYC gigs in that span. The fan base has grown naturally, attracted to LAUNDRY DAY's creative machine and catchy choruses. They capped off 2018 with two more New York gigs, while working on their third album. With a much anticipated album release and dates across North America, 2019 should be an exciting year for LD.