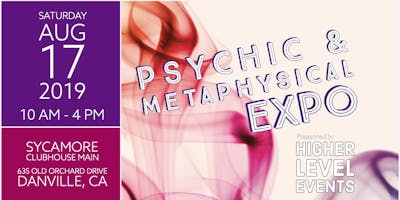 Psychic & Metaphysical Expo AUG 17


Psychic & Metaphysical Expo  |  

FREE ADMISSION!
25+ psychics, metaphysical & local vendors will be in attendance
Saturday, August 17, 2019 | 10am-4pm
Sycamore Clubhouse Main | 635 Old Orchard Drive, Danville, CA
Medium •  Inspirational Gifts  •  Tarot  •  Energy-charged Sprays  • Pendulums  •  Aura & Chakra Jewelry  •  Healing Crystals  •  Spiritual & Metaphysical Books  •  Unique Apothecary  •  Angels •  Cosmic Connections  •  Energy-charged Candles  •  Essential Oils •  Oracle  •  Psychic Intuitive  •  Local Art •  Divination Tools  •  Sage  •  Incense   …and so much more!
---
Attend FREE 20-minute metaphysical talks during the event! Stay tuned - we're planning a great lineup!
---
Questions or interested in being a vendor? Call Yvonne at 925.548.6103.
.
.
.
.
.
Higher Level Events provides a venue for independent product vendors and service providers. Any issues or concerns that may arise based on the content of the products or services (i.e. psychic readings, healings, and the like) will be the sole responsibility of the product vendor and/or service provider.
As an attendee, you agree and acknowledge that the products, practices and teachings offered during the Psychic & Metaphysical Expo do not reflect those of Higher Level Events and are provided for information and entertainment purposes only. The products, practices and teachings do not purport to offer any medical, legal, psychological, therapeutic, religious, or any other professional advice to attendees.
Attendee agrees to indemnify and hold harmless the event, Higher Level Events, Yvonne Bethe, Lia Valenzuela, or any of their representatives (i.e. volunteers) responsible for accidents, fees, claims or damages to staff, property, guests, members of the public, while participating in above-stated event.