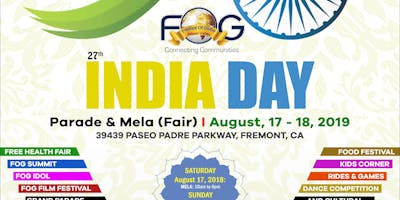 Festival of India - Mela and Parade (FREE ENTRY)
27th annual FOG Festival of India - Mela and Parade
FOR BOOTHS CLICK HERE https://buy.fogsv.com/booking/boothmap.php
The two day fair with over 200 booths and exhibits on Products, Services, Arts, Crafts, Literature, Fashion and Designs will be held in Fremont on August 17th and 18th. Free Health Fair, Food Fest, Culture Fest are part of this fair that is attended by over 150,000 people every year for the last 26 years. Showcasing and exhibition of culture, creativity, reflections and traditions are the hallmarks of Grand Parade. Witness the most glamorous and scintillating spectacle with famous Bollywood and Hollywood Grand Marshals riding in more than 100 open cars along with over 50 colorful floats.

The Grand Parade celebrates largest democracy of the World - India's Independence Day in United States of America, the oldest democracy of the world. Join us in celebrating the vibrant culture, dance and music as over hundred groups vie for the bay area's best performance awards!