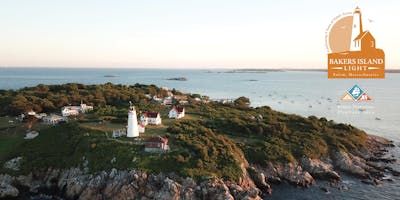 August 2019 Boat Tour to Bakers Island Lighthouse
Adventure to a place like nowhere else!
Boat Departure Location: Naumkeag departs from the Salem Ferry dock at 10 Blaney Street, Salem MA 01970. 
What You Need To Know Before You Go! Frequently Asked Questions
How much does this cost?



Adults: $35




Children (4-12 yr): $25




Essex Heritage Members recieve a 20% discount! (A discount code will be provided on membership confirmation letter.)



How long is the trip?
About 2.5 hours round-trip
Are there restrictions on who can go?
YES. All passengers must be:



At least 4 years old (No infants; in arms or baby carriers)




Capable of negotiating the boat ramp and the rugged island terrain without assistance.



Please Note: The lighthouse cannot be climbed at this time. 
What should I wear?



Rubber-soled shoes.




Flip-flops not recommended; NO heels.




Comfortable clothing.




IMPORTANT: It's colder on the water and there is no shelter from the weather on our open boat. Bring an extra layer!



What if it rains or is stormy?
Boat trips depend on the weather. Naumkeag has no rain or sun cover on it. You will be exposed to the elements going to and from the island.
What is the Cancellation Policy?


If Essex Heritage cancels the boat trip: If it is too rainy or stormy or the seas are too rough, and Essex Heritage has to cancel the boat trip, you will be fully refunded the cost of your ticket


If ticket holder cancels: If you cancel because you think it is too sunny, rainy, windy or whatever, but the boat still goes, tickets are non-refundable.


If the boat leaves the dock but cannot land on the island:  In the very unlikely event that the boat arrives at Bakers Island but cannot disembark passengers, you will still have experienced a pleasant boat ride and harbor tour. In this case, you will receive a refund for 50% of your ticket cost(s). (Only full refunds will be given if the boat doesn't leave the dock.)


How will I know if my tour has been cancelled?
Essex Heritage staff will do our best to email all ticketed passengers in advance if your trip has been cancelled. We will also keep an updated weather advisory line at 978-998-2188.
Is there food or drinking water?
There is limited food and drinking water available for sale at the Light Station. You are free to bring your own, but please take everything off the island with you. If you carried it on then you must carry it back.
Is smoking allowed?
Smoking is NOT permitted on the boat or anywhere on the island at all.
Are there bathroom facilities?
The bathroom facilities are VERY limited. There are bathrooms at the Salem Ferry dock, but there are no bathrooms on the boat. Once on the island, there is only one composting toilet facility at the Light Station.
Can I take my private boat or kayak to the island?
NO! The island is private and nobody is allowed to land. We are respecting the residents' concerns by prohibiting all public access to the Light Station except for those coming aboard our boat. Bakers Island Light Station is ONLY accessible to the public through escorted, guided boat tours provided by Essex Heritage.
Questions?
Please call Essex Heritage's Visitor Information Desk (located in the National Park Service Visitor Center) at 978-224-2036. The Visitor Information Desk is open seven days a week, from 9 AM-5 PM.
Essex Heritage does not assume responsibility for any lost or stolen personal property.