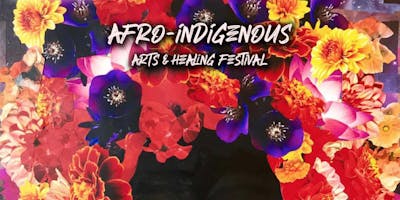 AFRO-INDIGENOUS ARTS + HEALING FESTIVAL
Empowered by the Ancestors and enlisted by the powers to be, Black Market and a group of COMMUNITY CREATIVES have been tapped to take-over the blighted lot across from the Haley House for an ARTS + HEALING Festival! 
This is an opportunity for us to enliven and activate a space that has been vacant for over 50 years in the center of Dudley Square, Roxbury!  

WHEN: SATURDAY, AUGUST 17, 2019
TIME: 2pm-7pm
WHERE: 2139 WASHINGTON STREET (IN THE LOT NEXT TO BLACK MARKET) ROXBURY, MA 02119
____________________________________________________________________________________________
LIVE ART- Paint the Block! -Bring your own Art Supplies and Create your own mural! We supply the canvas! 
HEALING STATIONS- SIsters of Calabash | ILE ASE (Ritual, Prayer, Reiki, Tarot and more!) Part I of BLACK AUGUST weekend! 
MUSIC- Live DJ's, Drummers and performances by local Artists of FAMILY FAMOUS + MILKSHAW BENEDICT and Friends!
AN AFRICAN ART SALE- Over 500 Masks, Shields, Yoruba Sashs, Statues, Textiles and more!
AN INTERACTIVE FASHION RUNWAY- Curated by Joelle Jean-Fontaine (Founder of fashion brand: I am Kreyol)
A ROYAL ROUND TABLE SESSION- Curated by Jessicah Pierre (Founder of Queens Company)
CURL WORLD- Hair as Art and Culture- Curated by OMG! which stands for OBSERVE MY GREATNESS; aiming to create a place for DIVINE SPIRTS to enjoy and embrave the essence of our energy! (Founder Komeal Hullum)
PHOTO WALLS- At this Festival- YOU ARE THE ART! Tag #AfroArtsFEST #beautifydudley and post on IG!
VENDORS- Enjoy the handmade artisanal goods by local makers and entrepreneurs!
LOUNGE- Hang out with us and enjoy the transformation of our neighborhood!
FOOD COURT- Taste of Indigenous Foods from around the Diaspora! 
FIT X CAMP with ZUUMBA, FULL BODY, YOGA curated by Joanne Lesperance (Leader- Fit X Camp)  
FACE AND BODY PAINTING! - TBA
 ________________________________________________________________________