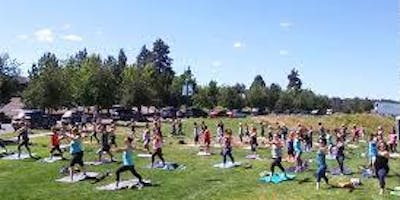 A Yoga Experience
Cost: $15 (pre-registration preferred/cash/Venmo day of)
Includes: Yoga, a pint of cider, and a beautiful green space
About: Want to spend your day in southern Minnesota, in an orchard, on a farm, in nature all doing a little yoga, drinking, eating, and socializing? Join us and Keepsake Cidery as they host three phenomenal YOGA classes this summer. Come to all three and see how the orchard changes and grows. Make is a girls day and bring a picnic or order the local food they have on the menu. Want a unique date, this would be the perfect spot to make that happen.
With this class you are hitting the TRIFECTA of wellness
2. Outdoors (Even with rain, we have you covered!!)
All humans and levels welcome. Bring a mat and a smile.
Annie: Annie Hayes is a yoga teacher, meditation guide and wellness coach with certifications from the Mayo Clinic of Rochester, MN, and Yoga Center of Minneapolis. Her passions extend beyond yoga to encompass a whole body, whole mind approach to wellness. This passion drove her to create Annie Hayes Wellness, a holistic approach to making wellness affordable and accessible to all.