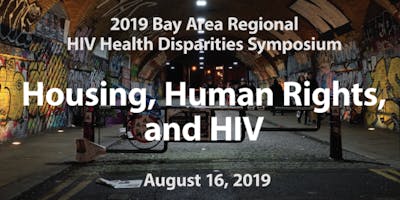 2019 Bay Area HIV Health Disparities Symposium: Housing, Human Rights, and HIV
Please join the UCSF-Gladstone Center for AIDS Research for an exciting one-day meeting on health disparities in HIV, Housing and Human Rights in the Bay Area. The goal of this meeting is to increase awareness and collaboration between public health departments, community-based researchers and implementers, and academic centers.  This year's meeting will take a deeper dive into the drivers of HIV health disparities within homeless populations. Topics to include:


Housing and healthcare as a human right


Stories from current and former homeless persons


Housing provider perspectives


County/government perspectives


Syndemics; STIs, HIV, Hep C, Substance Use and Mental Health


Hidden populations


Speakers being confirmed. Check this page for updates.
For info on last year's symposium, visit https://cfar.ucsf.edu/event/2018-hiv-health-disparities-symposium