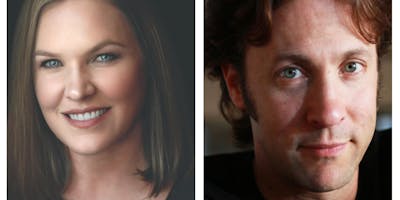 Chris Cander with David Eagleman

Celebrated neuroscientist and talented writer David Eagleman introduces friend and novelist Chris Cander to readers at Kepler's Books for her gorgeously executed new book, The Weight of a Piano. A summer literary read, ideal for book groups.
Cander's first novel, 11 Stories, won the IPPY Gold Medal for Popular Fiction, and the sophomore piece Whisper Hollow was long-listed for the Great Santini Fiction Prize. Her latest, The Weight of a Piano, traces the transitory nature of beloved artifacts: how treasured items may become burdens in the shifting context of time.
Piano follows two gifts, two women. In 1962, a young Russian woman named Katya emerges in her own identity and selfhood when the gift of an upright piano allows the 8-year-old girl's talents to grow and flourish. In 2012 Bakersfield, California, an orphaned twenty-six-year-old woman moving house contends with the physical burden of a piano she has never known how to play, gifted by long-deceased parents many years ago.  
For the modern woman, this hefty thing causes an injury that puts her out of work and necessitates selling the treasured piano. For the 1960's virtuoso, the same beloved gift from her own parents is lost during emigration to the United States. And on the day of its sale in 2012, an upright piano highlights the losses, joys, and music of these two lives as they intersect for the first time.
 "Deftly plotted and well-written, [The Weight of a Piano is] a gentle meditation on the healing power of art—and its limitations." – Kirkus 
Tickets to Kepler's Literary Foundation events are not tax-deductible. Tax-deductible donations can be made online at keplers.org/donate