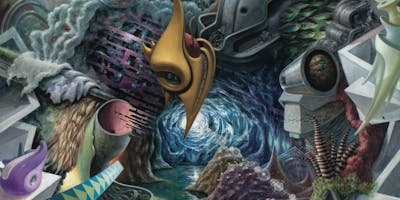 NoMe Edonna: CON:THEORY Solo Exhibition
Mirus Gallery presents CON:THEORY, asolo exhibtion of new works by NoMe Edonna.  The exhibition opens Friday, August 16, 7-10pm.  The exhibition is on display through September 9 and is Free and open to the public. 
NoMe Edonna is a self-taught artist from California, working primarily in the fields of painting and drawing. Techniques and styles rooted in Dada/Surrealism, Art Nouveau, Symbolism and 'Graffiti' Art, are visually prevalent, yet re-contextualized addressing contemporary issues.  In recent years, his work has become increasingly focused on social, political and environmental concerns as well as inquiries of science, technology and study of ancient civilizations. 
This is his first solo exhibition with Mirus Gallery.  He has participated in various groupshows, as well as live paintings as member of the Furtherrr Collective.  NoMe's work has been shown at worldwide, from street to museum and has been featured in numerous print and web publications. He's held artist residencies at the San Francisco dump as well as at S.F.'s School Of The Arts high school.