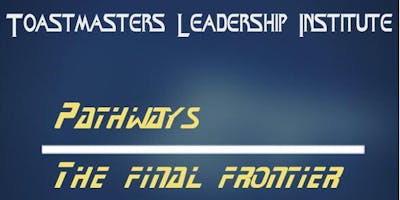 Toastmasters Leadership Institute - Summer 2019
Whether you're looking to connect more effectively with your colleagues at work or audience members while delivering a speech, the sessions at this event will give you the professional edge you're seeking to succeed.
The Leadership Institute features networking with Toastmasters members and non-members alike, fostering a supportive environment to get to know one another as people and professionals. If you are a Toastmasters club officer, there will also be the opportunity to attend training sessions and receive credit for your club.
---
Agenda
8:00 AM - Registration, Breakfast, Networking
8:30 AM - Welcome Remarks 
9:00 AM - Club Officer Training: Group Session and Breakouts
9:00 AM - Parallel Educational Session 



Enhancing the Member Experience - Kitzzy Avilés



10:45 AM - Educational Sessions


Adventures in Coaching - Tim Carlisle


Emotional Intelligence for Leaders - Tony Saccardi



Open house can do wonders - Joe Madley

               



What are DCP points and why should you care? - Catrina Meyers

  


11:45 PM - Lunch
12:45 PM - Pathways Panel



Confidently Navigating the Deep Seas of Pathways - Stefanie Chow, Elliotte Mao and Erika Alfaro



1:30 PM - Educational Sessions



Storytelling Best Practices - Natasha Baker-Streit




Enticing Evaluations - A Practical Recipe for Delivering Delicious Critique - Stewart Murrie




English as a Second Language - Terry Joyce



2:30 PM - Town Hall (District Leaders)

2:50 PM - Putting It All Together (District Leaders) 
3:00 PM - Event Ends (Optional Happy Hour at Di Napoli)


---
Enhancing the Member Experience - Kitzzy Avilés
Kitzzy Avilés is the 2018-2019-2010 District Director who wants to empower you to achieve excellence. She is the Senior Instructional Design Manager at Demandforce and has 20+ years of experience designing and delivering academic and corporate training, where she often has to facilitate discussions and educational sessions.
About the Workshop: We strive to provide every member and guest a safe and supportive environment where they feel empowered to achieve their goals. In this interactive workshop, we will discuss how to use the Moments of Truth to evaluate club quality and provide outstanding member experiences. Everyone is invited to come share and learn new ways to enhance the member experience in any of the following areas:
First Impressions
Membership Orientation
Fellowship, Variety, and Communication
Program Planning and Meeting Organization
Membership Strength
Achievement Recognition
---
Adventures in Coaching - Tim Carlisle
Tim Carlisle, DTM, and the current Club Growth Director takes us through his experiences in coaching two different clubs, and why he has found coaching one of the most rewarding experiences in his Toastmasters journey (Line shamelessly
borrowed from Andy Gimenez, DTM).
About the Workshop: Tim will host an highly interactive session about how he picked the clubs, what he saw in each club, what he actually did in working with each club, and the relationships he built in both cases.
---
Emotional Intelligence for Leaders - Tony Saccardi
Tony Saccardi, DTM is a charter member of famed club Evening Stars and has been with Toastmasters for over 12 years. He is a former Software Architect turned Emotional Intelligence Coach. Over the last 5 years Tony has been studying Mindfulness, Meditation, receiving multiple certifications, completed his CTI Co-Active coaching including certification training and is one of only 50 coaches in the world having gone through Daniel Goleman EI coaching certification program.
About the Workshop: Learn the practical side of emotional intelligence and how you can use it to lead without stripes, influence decision makers, and sell your vision. The new leader is not someone with power over other people; a true leader is someone who understands emotions and how they affect people's behavior. The empathetic leader gets the best out of people simply because they genuinely care about people, inspiring them to do their best. In this workshop we will look at the practical side of Emotional Intelligence (EI) as taught by Daniel Goleman. We will use real life examples and get into the practice of EI. At the end of the workshop, you will know what EI is all about and more importantly you will have a new understanding of what emotions are and how they control our life for better or for worse.
---
Open House can do wonders - Joe Madley


Details to follow..
---
What are DCP points and why should you care? - Catrina Meyers
Catrina has been an active member of Guidewire Premium Presenters Toastmasters Club for the past 4 years. This club has been a Distinguished Club every year since it was chartered 7 years ago, and President's Distinguished for the past 6 years. She has held various Club Officer roles including VP Membership, Treasurer, and Club President. She is currently the Division A Director for District 4 and is mentoring a new club at SurveyMonkey called CuriosityMasters.
About the Workshop: Does it feel like the sun, moon, and stars have to align in order for your club to be able to achieve the coveted Distinguished Club Status? Do you have absolutely no idea what Distinguished Club Status even means? In this session we'll discuss the Distinguished Club Program (DCP), talk about why it matters, and explore opportunities to help you push through the roadblocks that you've previously encountered.
---
Confidently Navigating the Deep Seas of Pathways - Stefanie Chow, Elliotte Mao & Erika Alfaro
Stefanie Chow joined Toastmasters in August 2013 and has since competed in district international speech contests and served in several club and district leadership roles. As Immediate Past District Director, Stefanie's focus for 2019-2020 is working with the current team to improve Pathways adoption. Through education sessions and tailored club visits, she hopes to empower members by finding the connection to the reasons we joined this organization. When Stefanie is not participating in Toastmasters or working as an event professional, she spends her volunteer hours at the San Francisco SPCA and human trafficking shelter.
Elliotte Mao DTM (3x), is the current Division C Director, and was one of 14 Pathways Guides in District 4 to introduce the new educational system in August 2017. She has presented the Toastmasters International original Pathways presentation to a dozen clubs, revamped the talk and revisited clubs to clarify and address issues. With her 19 years in Toastmasters, she has embraced both Legacy and Pathways to leveraged the best in each. She has completed one path (Level 5 in Dynamic Leadership!) started 2 more (L3, L4) to compare their contents and efficacy to help the 5 clubs that she mentors. As a Division Director, she hopes to bring her experience to empower an even wider audience. She looks forward to exchanging successful and challenging experiences with you at the panel.
Erika is a Public Health Nurse, and works for a San Mateo County Program that provides case management to children with chronic medical needs. She is an active member in her community not only as the current President of the dynamic SF Spanish Bilingual club, but also as an Alliance of Nurses for Healthy Environment (ANHE) fellow. The ANHE program has a particular focus on environmental health equity and justice, and addressing the disproportionate impact of environmental exposures on vulnerable groups. Her ultimate goal with Toastmasters is to gain and practice the skills necessary to become a better advocate for her community in relation to health, wellness, and environmental justice issues.
About the Workshop: After June 30, 2020, Pathways will be the only be Toastmasters education program. If you are still nervous or struggling with the interface, join Immediate Past District Director Stefanie Chow in tackling the top five challenges that prevent members from moving forward with Pathways. We'll hear testimonials from two members Erika Alfaro and Elliotte Mao, then wrap up with tips on encouraging Pathways adoption and active usage within your club. There will be hands-on demonstrations of Base Camp. You're welcome to bring your Toastmasters.org credentials for one-on-one assistance after the session.
---
Storytelling Best Practices - Natasha Baker-Streit
Natasha Baker-Streit, CC/ALB/VC5/EC4, is an active member of her home Toastmasters club, Stagecoach Speakers SF Financial District, where she's held multiple club officer roles in addition to District leadership roles, including Area Director, Division Director (earning 2018's Division Director of the Year award), and 2019-2020 District 4 Finance Manager. She has worked in strategic planning and executive communications for Wells Fargo over the past 8 years and offers PowerPoint and Storytelling Best Practices classes across the bank. When not attending Toastmasters meetings, she can be found at historical costuming and vintage ballroom dance events across the Bay Area.
About the Workshop: Storytelling is an integral part of everyday life – whether we're giving a speech at a club, presenting at work, or just talking with family and friends. In this session, you'll learn how to effectively prepare for your next speech or presentation, starting from identifying your initial objectives all the way through what to do while speaking. Participants will also leave with a data visualization handout showing examples of how to effectively communicate complex information via simple visuals for use in presentations.
---
Enticing Evaluations - A Practical Recipe for Delivering Delicious Critique - Stewart Murrie
Stewart Murrie, DTM, is a San Francisco-based product designer, speaker and facilitator. In 2017 he won the District 4 Evaluation Contest and was also named the District 4 Toastmaster of the Year. He is an active member of two clubs, Dolby Speakers and San Francisco Storytellers, and has previously served as Area Director and Division Director. Stewart has run many workshops on brainstorming, ideation and creative problem solving, and loves helping people to work and grow together.
About the Workshop: Evaluations are the most empowering part of the Toastmasters educational experience, but also the most difficult to get right. Like a delicious treat, a good evaluation is nourishing, satisfying and makes you want another. As the chef, you have to blend the perfect ingredients in the right proportions while not making it half-baked or over-cooked! In this practical, hands-on workshop, Evaluation Champion Stewart Murrie will take you through his recipe for delivering encouraging, insightful feedback, giving guidance on what elements to include and how to mix them together for maximum impact. You'll then get to try it out for yourself and get feedback on your technique so you can develop your own flavor and style.
---
English as a Second Language - Terry Joyce
Terry Joyce is a systems developer, currently focused on data analysis and management. He's been a Toastmaster since 2007, and achieved Distinguished Toastmaster certification (finally!) in Spring 2019. Terry is the longest-term member of San Francisco Toastmasters, a President's Distinguished Club with more than 70 members. He's also a charter member and club mentor of Spanish Bilingual SF Toastmasters, also a President's Distinguished Club and home of District Directors, past and present. He has sponsored over 50 Toastmasters, and mentored more than 30. He currently serves as District 4's Club Mentor Chair.
Terry has been studying languages and accents as a hobby for more than 25 years. He's competent in 3 languages -- Spanish, Portuguese and French. He's also studying Japanese. Terry has done accent coaching 1-on-1 with adults from many different countries. A former skydiver and scuba diver, Terry is now more likely to be fly fishing or traveling for recreation.
About the Workshop: "To my friends and Toastmasters for whom English is a second language … we love your accent! This is San Francisco. We like to think of ourselves as an international city … and I guess you being here backs that up."
If English is your second language (ESL) or struggle with the American dialect, this workshop is for you.
We'll consider:
"How does my accent work for me in communication?"
"How might it work against me?"
" … and what should I do about it to communicate more effectively?"
The workshop will be general to ESL speakers or English speakers of other dialects. We'll have fun working with real world examples from around the world … presented by you, the attendees of the workshop.
---


Town Hall with Top District Leaders 

The day after this Leadership Institute, the District Director, Program Quality Director, and Club Growth Director will be traveling to Denver, CO to attend their two-day officer training. They'll also be representing District 4 at the International Convention by interviewing candidates for international office and voting at the business meeting. During this town hall meeting, we will simply listen and note any concerns or feedback you'd like us to communicate to World Headquarters and candidates running for international office. While we may not be able to incite immediate change, it's important to share feedback on the membership experience.
---
Putting It All Together
By the end of this Leadership Institute, you'll have attended training, gained knowledge at education breakouts, and made new connections. How can you leverage all of this to grow as a Toastmaster (or future Toastmaster)? Join us as we wrap up with a few key takeaways and get your immediate feedback to truly get the most out of your day.
---
Unofficial Happy Hour Spot
If you'd like to join us for happy hour after the event ends, here is the "unofficial" meet-up spot:
Di Napoli, 202 Grand Ave, South San Francisco, CA 94080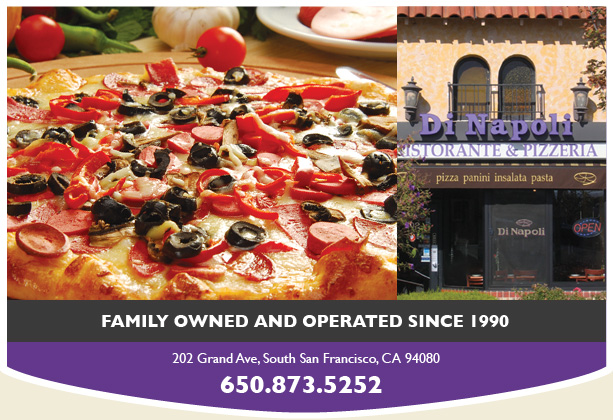 ---
Frequently Asked Questions
What type of educational sesions can I expect?
In additionto club officer training, we'll have educational sessions on topics related to Toastmasters, but that you can also use at work and other activities outside of Toastmasters. Past topics have included: Brainstorming, Effective Evaluations, Pathways, Membership Retention, Mentoring, Impromptu Speaking, Leadership. 
Where do I park?
Directions to Genentech Building 35 can be found here: https://www.gene.com/contact-us/visit-us/s-san-francisco#b35. There is a large parking lot across the building that is acceptable for visitors to park in on weekends.
What do I need to bring for security?
Please bring a government-issued ID to get through security.
Can I pay by check?
If you are looking to pay by check or cash, this must be received by our Finance Manager by the early bird or general admission deadlines. Contact finance@d4tm.org for details.
I work at Genentech, do I get a discount?
All Genentech employees get in free! However, you do need to pre-register so we have an accurate headcount, and you must present a valid Genentech ID at registration.
Can I volunteer to organize this event?
Yes! We have many leadership opportunities before and during the event, including registration, food, session assistances, speakers, hospitality, and more. Email quality@d4tm.org for details.
Are there any security details I need to know about?
Yes! Please have your Photo ID available, for admission to the Genentech building
I have more questions!
Contact District 4 Toastmasters Program Quality Director, Kalidas Cheroolil, at quality@d4tm.org for more information or if you have any additional questions.
---
Lets be environmentaly friendly..
We have water fountains next to the breakout sessions. So, if you have a refillable bottle, please bring it along. If you don't have one, we will have small size water bottles for you.
PHOTO & VIDEO DISCLAIMER
Disclaimer: Portions of this event will be recorded with photos and videos. Your ticket purchase implies consent to this recording for the publicity of District 4 Toastmasters, without financial compensation or editorial control.