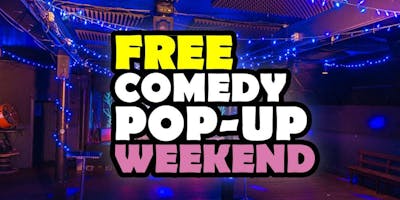 Free Pop-Up Summer Comedy Nights
>> Just 200 Tickets Per Show <<
HellaFunny and Funcheap are taking over the Neck of the Woods and turning it into a secret pop-up comedy club for one weekend. Come enjoy some big laughs with some of SF's best comedians. Comedians from this show have been seen on NBC, ABC, Viceland, MTV, Netflix, Cobb's, SF Sketchfest, Clusterfest and more. General Admission tickets at the door are $10, but you'll get on our exclusive guest list here.
> Donations appreciated < If you have the means, help support the show 
JULY 2019 COMEDY LINEUP
Friday:
- Annette Mulany (Cobbs)
- James Marwa (Punchline)
- Ryan Chan (Opened for Earthquake)
- Plus special guests and HellaFunny all-stars
Saturday:
- Adam Perlstein (SF Sketchfest)
- Aivy Cordova (Cobbs)
- Michael Alveranga (Punchline)
- Plus special guests and HellaFunny all-stars
About the Producers:
HellaFunny Comedy Night is produced by Bay Area Comedy Collective #HellaFunny. #HellaFunny produces comedy shows throughout the Bay Area 7 nights a week in venues including Cobbs, Punchline, the Great Star Theater, Milk Bar, Starline Social Club, Slate Bar, Eastside West, the Neck of the Woods and more. Comedian and CEO of #HellaFunny, Stroy Moyd, is 10-year veteran and has been seen on Tech Crunch, Vox, Complex News, Good Morning America, NBC Nightly News and Viceland.
Frequently Asked Questions:



Has anyone famous ever performed at a HellaFunny Show? - Yes indeed! HellaFunny has been able to attract talent of national headliners such as Hannibal Buress (Broad City), Mike E. Winfield (The Office), Jermaine Fowler (ABC's Superior Donuts), The Lucas Brothers (Netflix Special "On Drugs") and more!



What time should I arrive? - We suggest everyone arrive 30 minutes prior to showtime!



Do you serve food? - The Neck of the Woods does not serve food. However, there are plenty of restaurants near by and you can bring your food in and watch the show no problem!



Is there an age limit? - Yes, 21 and up.



How's parking? - Little street parking is available. However, we suggest using Lyft or another ridesharing app.


Is there a dress code? - Dress to impress!