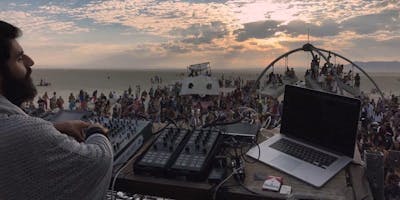 PreBurn with Goldcap (Sol Selectas) Open 2 Close at Private Event Space
PreBurn with GOLDCAP (Sol Selectas) All Night Long at Brand New Private Event Venue featuring fully immersive surround visual effect with 360 mapping of the entire space changing its look constantly.

Don't miss Goldcap in an intimate setting, a very limited amount of tickets will be sold.
RIDAY, AUGUST 16TH
PURCHASE TICKETS:
There are only 250 Tickets for this party, grab your tickets now. 

21+ 9:30PM - 2AM
251 Rhode Island Street

ABOUT GOLDCAP: Berge Sahakian AKA Goldcap's roots in music are based in an eclectic pool of genres since his earliest ages. Listening to everything from classic rock, traditional indian, orchestra, and reggae, to classical, metal, west-african, and middle-eastern styles of music. From youth, having picked up instruments like the electric/acoustic guitar, bass guitar, classical piano, and various different percussive instruments, it was only natural for him to incorporate an organic vibe into his musical selections. Also being a fan of poetry, films, ambient sounds, traditional instruments, and the spoken word, you will often find him incorporating an eclectic array of samples into his sets.