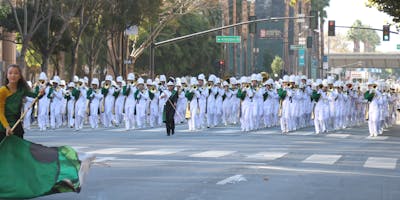 MSJ Band Registration 2019-2020
Welcome to the MSJHS Band Registration page for the 2019-2020 school year. Please read the following critical instructions before registering:
Dear Parents:
On behalf of Mission San Jose High School Band and Color Guard Program we are asking for your support through voluntary fundraising and donations to help cover the cost associated with Band. Based upon the number of participating students that stand to benefit from the Band, if every affected family donated an equal amount, it would amount to $360.00 per student.
Please note, donations of any amount will be accepted and that your donation to this cause is completely voluntary. No student will be denied participation in or the benefits of any Fremont Unified School District or Mission San Jose High School's educational program or activity due to the amount of your donation, or your ability/willingness to donate.
Thank you in advance for your support. We would also like to express our sincere appreciation to the many students and families who have already contributed. If you are interested in other ways to support our Band and Color Guard Program, feel free to contact me.
Sincerely,
Monica Kraft 





All students must be registered, including returning students. Siblings must be registered separately. 


THIS REGISTRATION IS REQUIRED FOR ALL STUDENTS TO BE ABLE TO PERFORM




Registration Due Date: Wednesday August 7th or earlier


Family Potluck - In addition to completing this registration, all students and at least 1 parent are required to attend the Family Potluck on Tuesday August 20th, 2019 @ 6:00 PM @ Mission San Jose High School's Little Theater. At this meeting, parents will receive and need to turn in the following documents:






Field Trip Form




Student & Parent Code of Conduct Agreement






Pay by Check - If you prefer to pay by check, please select the first ticket option and use the coupon code "check" when checking out, this will reduce the price to $0. Please make checks payable to "MSJHS". *Note - THERE IS NO DISCOUNT IF YOU PAY BY CHECK



Other Donation Value - If you prefer to not donatate or require a payment plan please select the first ticket type and use the coupon code "contactme"


Matching Donations - If your employer provides matching donations, you MUST pay by check in order for the music department to receive your matching donation. Due to district policies, you will need to make your check payable to "MSJ PUPs" instead of the school.  



Family Volunteer Requirements - Everything we do would not be possible without the help of parents as drivers, chaperones, and volunteers throughout the year. Each family is asked to volunteer for at least 3 shifts to support the MSJ Band program. 
Click here to see the volunteer list