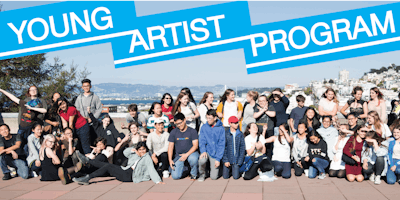 YOUNG ARTIST PROGRAM – SUMMER 2019
YOUNG ARTIST PROGRAM
Summer 2019
July 29–August 16, Ages 13-15
Join SFAI's immersive three-week summer Young Artist Program (YAP) and connect with your creative community of peers who forge new ways of looking at and living in the world. YAP is the perfect place to express yourself while diving deep into technique and concept development, medium exploration, and experimentation. Led by dedicated artists and teachers, courses take place during morning (9:30am–12:30pm) and afternoon (1:30–4:30pm) sessions on SFAI's historic and bustling Chestnut Street campus in the heart of San Francisco.

Look out at Alcatraz and the Bay while enjoying lunch in the SFAI Café; take in the Diego Rivera mural during a painting lesson about public art and scale; see a constantly rotating display of inspiring student artwork on your break; spend time in the Anne Bremer Memorial library, which houses over 20,000 art books, magazines, and videos; or participate in a YAP lunchtime social event.
Register  beginning March 1, 2019. Space is limited. Early registration is recommended.
Learn more >> www.sfai.edu/yap

TUITION
$900* Full-Day (Taking both a Morning and Afternoon course)
$475 Half-Day (Taking either a Morning or Afternoon course)

*Please enter promo code: yapallday to receive the $50 discount if you enroll in both a morning and afternoon course. When you click on the green "Register" button, above the quantity select "Enter Promotional Code" and type "YAPALLDAY" to receive the $50 discount. If you do not apply this at the time of checkout, YAP Staff will apply the refund manually to your credit card.

COURSE SCHEDULE
YAP courses meet Monday–Friday for the full three weeks of the program
Morning, 9:30am–12:30pm
Afternoon, 1:30–4:30pm
________
What are my transport/parking options getting to San Francisco Art Institute?
All classes meet at 800 Chestnut Street, between Jones and Leavenworth. You can find directions to campus on the SFAI website. SFAI is located in a residential neighborhood, and free two-hour parking is available on all of the streets immediately surrounding the school. 
SFAI is easily accessible via public transportation, with Muni bus lines #30 Stockton, and #47 Van Ness located within a few blocks of campus.
Are materials included in the cost of the program?
Materials are not included in the cost of the program. We make every effort to keep materials costs low for participants. Please plan to budget $50-$150 per course for materials. Materials lists for each class will be distributed to students and parents/guardians two weeks before the summer program begins. Please contact Public Education staff if you are concerned about the cost of materials.
Where can I contact the organizer with any questions?
SFAI Public Education Staff are always happy to answer any questions you may have about the Young Artist Program, or our courses. We are in the office Monday-Friday from 9am to 5pm. Call us at: 415.749.4554 or e-mail: yap@sfai.edu
What is the refund policy?
View the Young Artist Program refund policy on the SFAI website here.