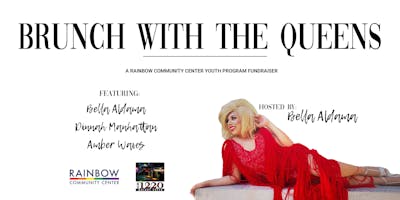 Brunch with the Queens Fundraiser
Join us for our Brunch with the Queens! Proceeds raised from this event will benefit our Rainbow Community Center's Youth Programming, helping fund field trips, art supplies, games, snacks, refreshments, giveaways, and special events. 
The $25 entrance fee includes an amazing live show, a delicious buffet catered by Sunrise Bistro, pastries, non-alcoholic drinks, and opportunities to win great raffle prizes!
Our cast includes:
Bella Aldama
Dinnah Manhattan
Amber Waves
The Rainbow Community Center Youth Program is focused on creating brave, inclusive and safe spaces for lesbian, gay, bisexual, transgender, queer, questioning+ (LGBTQ+) youth. For more information about this event please reach out to Christian Aguirre at christian@rainbowcc.org.