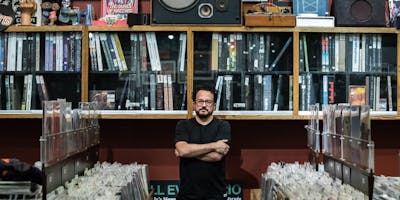 Hewing Rooftop Concert Series featuring DJ Mark Farina
Hewing Hotel is proud to announce a night on the rooftop like no other featuring DJ Mark Farina, Chuck Love, and DJ Matt Esse. Join us Friday, July 26th from 6-10pm as we bring summer beats poolside.
DJ MARK FARINA
Mark Farina has solidified himself in the world of Dance Music as a trailblazing DJ, Producer, tastemaker and bona fide House Music icon. After 3 decades crisscrossing the globe, he shows no signs of slowing down remaining innovative, humble, and firmly rooted in the underground.
"I look at my job as a 'modern day traveling minstrel' bringing new music to as many places as I can and exposing audiences to obscure records that otherwise might go hidden."

As an early House Music pioneer in the late 80's, Farina's history includes an impressive long standing residency at Smart Bar Chicago and a job at the legendary Gramaphone Records. In the 90s, Mark pushed musical boundaries and blended hip hop with downtempo grooves to create an entirely new genre, "Mushroom Jazz".
Eventually, Mark made San Francisco his home as his legendary DJ sets sparked a constant demand in clubs and festivals across the US. The Bay Area proved to be a perfect match for Mark's musical vision and he released a string of major mix compilations including his Mushroom Jazz series. With a tireless passion for playing extended sets, B2B shows with fellow House Music icons, or playing both of his signature styles on 2 stages on the same night, Farina continues to entertain his incredible fans all over the globe with over 100 shows per year.

CHUCK LOVE
Hailing from Minneapolis, MN, Chuck Love embeds & spreads his unique brand of high energy, Dance Music, around the globe; raising rooftops, smoldering subwoofers and packing dancefloors. Known for his signature "Live DJ/Video" set, Chuck pulls triple duty as the DJ, a Vocalist and a Multi-Instrumentalist. The result: a ridiculous mix with some slamming, 'on-the-fly-produced' tracks showcased within the set.
In 2010, Chuck launched his label, LOVE NETWORK, and has teamed up with Colette for the first release – UR EVERYTHING(with Remixes by Santiago & Bushido). His productions range from downtempo to minimal electronica to head-bopping 4/4 house – all infused with his signature soulful, jazzy flavor influenced by his Minneapolis roots. You can find his releases on Love Network, OM, Great Lakes Audio, Shifted Music, Salted, Onethirty, Celebrity, Lingo, Large and Tango.
DJ MATT ESSE
Djing since 2000, Matt Esse has developed a refined taste in quality underground Progressive House music heavily influenced by the sounds of Miami Beach. Matt has a release on Del Sol Recordings (Tampa) and is currently working on new productions.