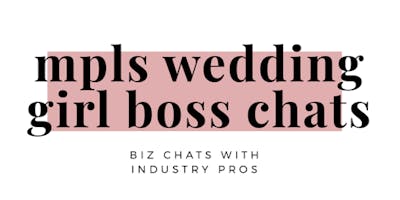 Mpls Wedding Girl Boss Chats
Hey, MPLS Wedding Planners and Photographers!
Looking to up your business savvy and build a community within your niche of the wedding industry? Join us for a new wedding industry event series, "Mpls Wedding Girl Boss Chats", an intimate Q&A discussion on biz strategy with local wedding pros designed exclusively for photographers and wedding planners.
Come learn how to build community, grow your brand and better your business from some of the top MPLS influencers in the wedding planning and photography world.  
Join us for our SECOND Girl Boss Chat on July 24th, 2019 from 6-8pm at the brand new Style Society Club House where our discussion will revolve around sales and marketing for your business and brand.