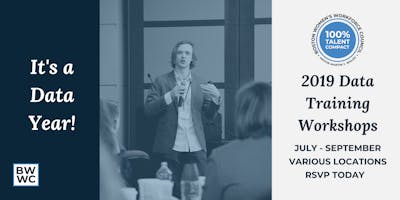 2019 Data Training Workshops
Please note: Unless otherwise noted, BWWC events are for 100% Talent Compact Signers only. If you are a prospective signer and would like to learn more by attending one of our events, please contact us at team@bostonwomensworkforcecouncil.org. 
---
Since 2013, and in partnership with Mayor Martin J. Walsh, the Boston Women's Workforce Council (BWWC) has created regular reports on the status of the wage gap in greater Boston and what employers can do to close it. With the support of 100% Talent Compact signers, we're proud to embark on another Biennial Wage Gap Measurement to produce our 4th wage gap analysis report. This year, we will also be introducing an industry breakdown through which signers in heavily-represented industries will be able to measure themselves against their industry average.
In preperation for The 2019 measurement cycle we are conducting workshops throughout the greater Boston area from July through September. We highly encourage our 100% Talent Compact members to register for one of the following workshops to ensure a smooth process: 
- Tuesday, July 23rd | 9:00am - 10:00am | WeWork, 33 Arch Street, Boston, Room 17B

- Tuesday, August 6th | 9:00am - 10:00am | WeWork, 625 Mass Ave., Cambridge, Room 2B

- Tuesday, August 20th | 4:00pm - 5:00pm | WeWork, 77 Sleeper Street, One Seaport Lane, Boston, Room 2E
- Thursday, September 12th | 4:00pm - 5:00pm | Carbon Black, 1100 Winter Street, Waltham
- Tuesday, September 17th | 4:00 - 5:00pm | Hariri Institute for Computing, Boston University, 111 Cummington Mall, Boston, Seminar Room
The submittal window will be open from Monday, September 23rd to Friday September 27th. BWWC staff will be available Monday, September 23rd at Boston University, Seminar Room from 9:00am - 5:00pm to answer any questions. 
Save your spot now to receive further details via email. Learn more about the workshops by viewing this flyer. 
Special thanks to 100% Talent Compact signers and Boston University's Hariri Institute for Computing team for making these trainings possible. 
Should you have any questions, please contact us at team@bostonwomensworkforcecouncil.org.