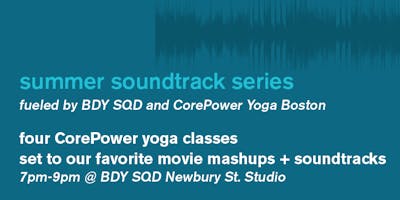 Summer Soundtrack Series: fueled by BDY SQD + CorePower
Summer is for movie nights, sweat sessions and making Monday's great again.
Join us for our Summer Soundtrack Series fueled by BDY SQD and CorePower Yoga Boston. Sweat it out during four summer CorePower yoga classes accompanied by our favorite movie mashups and soundtracks- all taught in the BDY SQD studio.
.
June 24th - we love you jake ryan: the John Hughes days
led by Molly Malo + Sarah Larbi
July 8th - surf's up: movies that hang ten
led by Lily Holland & Nikki Trone
July 22nd - take our breath away: 80s chick flicks
led by Jenn Seabolt
July 29th - miss independent: 2000s teen indie films
led by Mary Ciccarelli & Kim Kristof
Stop by the studio before class for a complimentary sample assisted stretch (we suggest scheduling ahead of time here,) and stick around after to chat about recovery, snack on some local faves and check out the studio.
BDY SQD and CorePower members attend for free! Email us at cmty@gobodysquad.com for your purchase code.