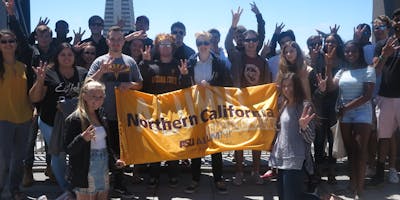 San Francisco, CA: ASU Sun Devil Send-Off
You and your family are invited to a Sun Devil Send-Off, an annual tradition that welcomes incoming ASU students and their families to the Sun Devil family.
Hosted by the ASU Alumni Northern California Chapter, this Sun Devil Send-Off is a great chance to meet other local students coming to ASU in the fall, ask questions of ASU alumni and staff, and most of all, have fun in a casual environment to celebrate your next step into your lifelong ASU experience.

Sun Devil Send-Offs are free of charge and refreshments will be provided.

Please click the "register" button to RSVP by July 9. We look forward to meeting you!
Some free street parking, and paid parking is available in the garage at 250 Clay Street. 

Questions: Contact Trish Thiele-Keating at trish.thiele-keating@asu.edu.
By registering for this event, I give permission for ASU staff and volunteers to take and use for any purpose photography and/or videography of me and my family before, during and after the event. The photographs and videotapes will remain the property of ASU.