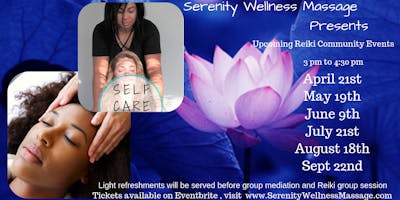 Serenity & Wellness Reiki Energy Healing Circle
I will start with a Reiki healing circle guided meditation and sound healing to clear out all that is no longer serving us and bring in new energy to create, transform and expand. You will receive a hands on mini-treatment, gaining a better understanding of what Reiki is and how it works. We will end together by sharing our experiences and curiosities.

For those new, it's an opportunity to experience and learn about the amazing Reiki energy.
What is Reiki?
Reiki is a Japanese technique for stress reduction and relaxation that promotes healing. It is a form of energy healing and complementary therapy that addresses the root of ailments such as insomnia, aches and pains, emotional and mental distress, and general dis-ease.
Stress, trauma and illness restrict the natural flow of ki or "life force energy" through the body. By restoring the flow of life force energy through the body, Reiki rejuvenates the body's ability to relax and, therefore, supports the body's ability to heal itself.
At Serenity Wellness Massage, we use proven Reiki techniques to channel energy to the parts of your being that need it the most. This channeling allows you to tap into your Higher Self, providing the body with the boost it needs to heal itself and push through obstacles.
Reiki is a wonderful treatment on its own, helping to restore and rejuvenate the body, mind and spirit. It is especially effective when paired with other therapeutic treatments. Regular Reiki sessions allow other therapeutic treatments to take a deeper hold, facilitating healing and helping you move forward along life's journey.
Dress in comfortable attire and feel free to bring a notepad, a pen, and a water bottle. We will start promptly at 3pm, please arrive 5-10 minutes early to sign in, eat some light refreshments and get comfortable. We will end the workshop between 4:30pm and 4:45pm. No experience is required. All are welcome. Come to receive and learn.
Our space can accommodate up to 8 people, so please RSVP & pay via eventbrite to reserve your spot.
Cost: This 1hr 1/2 workshop is $25 pre-registration via eventbrite, or $30 at the door (cash, venmo @Latoya-L. Thanks for your support and participation.
If you can't make it to the workshop or Reiki share this month and would like to book a Reiki healing session, Serenity Wellness Massage is having a promotion for 15% off of a regular priced healing session. Mention this promotion when scheduling your first appointment with me.