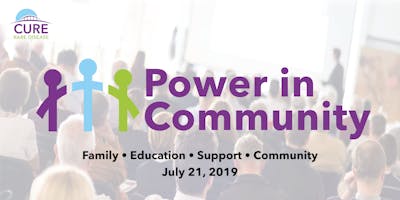 Cure Rare Disease: Power in Community Conference
The Power in Community Conference is an annual educational conference hosted in Boston by Cure Rare Disease, a nonprofit that forges collaborations between researchers and clinicians to develop customized therapeutics for rare, genetic disorders. 
The purpose of the Power in Community Conference 2019 is to bring together Duchenne/Becker's families, clinicians and drug developers to learn from each other and connect with one another. The conference provides each group the opportunity to better understand the needs and progress of ground-breaking therapies under development and evolving standards of care. The conferences goal is to educate while also fostering a sense of community and support for families affected by rare disease. 
At the conference, there will be a range of therapeutic development companies in attendance as well as leading clinicians within the space of Duchenne/Becker's muscular dystrophy speaking about changing standards of care and other topics.We will have Dr. Brenda Wong speak from the clinical point of view. We will close the day with a family panel. Our family panel participants include a range of perspectives within the DMD space. 
To learn more about Cure Rare Disease and the Power In Community conference, please visit: https://cureraredisease.org/power-in-community-conference/  
Agenda
9:30AM | Check-in
10:00AM | Opening
10:15 – 11:30AM | Clinical session with Dr. Brenda Wong
11:30 – 12:00PM | Lunch break - café located in lobby
12:00 – 2:00PM | Biotech panel / Q&A
2:00 – 2:15PM | Break
2:15 – 3:45PM | Family Panel
3:45 – 4:00PM | Closing
Food is available in the cafe at the Museum of Science. All facilities are ADA certified and fully accessible.