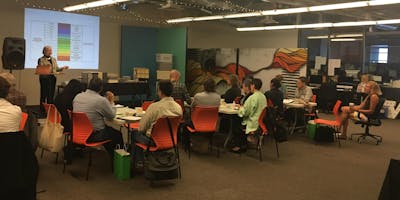 Art Linx Conference: Freelance Framework
Join us for Art Pro Net's 2nd annual Art Linx Conference, a networking and professional development event for arts and collections professionals of all levels!
July 20th, 2019 at the Doug Adams Gallery in Berkeley, CA
from 8:30 am-3:30 pm


Sponsored by Tru Vue, Inc.
APN is so excited to announce the Art Linx 2019: Freelance Frameworks Conference.  This day-long event is dedicated to helping art logistics professionals network and find professional development resources.  In this year's conference, we will not only discuss technical processes of collections work, like framing and fabrication, we will also talk about many of the overreaching topics that are important to us all, such as the growing freelance economy that we all depend on to help our small staffs.  Join us for a day full of opportunities to connect with other professionals and find ways to manage the ever-growing expectations in our community.
This years program will include:
Tech Talk with: Chris Barnett- Sterling Art Services


Freelance Discussion with: David Corfield- Life Work
Networking Lunch and Resource Swap
Roundtable Discussions about Networking, Interviewing Tactics, Mount Making and Fabrication Planning, and Freelance Management. Facilitators include Mount Makers and Fabricators, Denise Fordham and Harvey Newman, and Networking and Event Management Professional, Colleen Fischer.
Coffee, Snacks, and Lunch Provided
Tickets are only available by pre-registration and will not be sold at the door.  

*Some Discounted or Scholarship Tickets are available. To find out more please email the organizer at connect@artpronet.com*