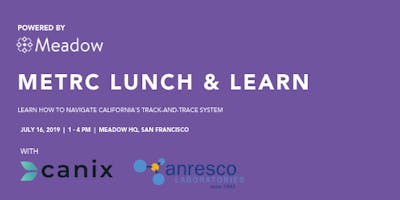 Meadow Metrc Workshop Lunch & Learn
As the state rolls out The California Cannabis Track-and-Trace (CCTT) system, come learn how the new rules and regulations will affect the state supply chain. We will equip you with best practices, knowledge, and confidence to continue running your business compliantly and efficiently.


RETAIL DISPENSARY & DELIVERY OPERATORS:
Meadow has developed an innovative integration with Metrc® which is a comprehensive and user-friendly solution to make it easier for retailers and delivery operators to receive products, scan and track sales and submit sales data to the state. Meadow builds software solutions for California's cannabis industry, including an all-in-one dispensary point-of-sale solution that allows cannabis retail and delivery businesses to sell, track, organize, analyze, and reward within one integrated software system. Meadow powers dispensaries and delivery services of all sizes, utilizing technology to maintain compliance with local and state regulations, scale with the Adult Use market, and create operational efficiencies that allow these businesses to thrive in a regulated industry. To learn more about Meadow, visit getmeadow.com.

CULTIVATION & MANUFACTURING:
Canix is a software company built from the ground up for cannabis companies. Canix serves cultivators, extractors, and distributors of all sizes across eight states, utilizing technology to maintain compliance with local and state regulations, scale operations, and create efficiencies that allow these businesses to thrive in a highly competitive industry. Across its customer base, Canix has cut the time of compliance by 75%. Canix is a certified Metrc, CCA, and Quickbooks integrator and backed by top investors including Y Combinator.


WITH: 
Anresco Laboratories has been an accurate and reliable source of independent analysis, research, and consulting services to food and food-related industries since its inception in 1943.  Anresco is now a recognized leader in the cannabis testing space, providing regulatory compliance testing for cannabis businesses throughout the state of California. Anresco is currently the only laboratory in California that is ISO 17025 accredited, FDA registered, and ELAP certified.
Mellows are gourment cannabis-infused marshmallows, handcrafted in San Francisco. Each 5 mg piece is a beautiful, delicious, low-dose edible that is pure delight from the moment you pick up a box, to the first taste, to the mellow feeling imparted. 
Papa and Barkley makes cannabis-based medicine for pain relief and wellness. With a mission to unlock the power of cannabis to improve people's lives, the Releaf line was inspired by a son's mission to ease his elderly father's immobilizing back pain.

Lunch will be served.