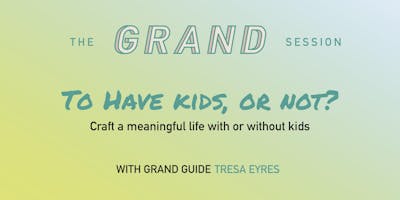 The Grand Session: To Have Kids, Or Not?
Choosing to have kids, or not to have kids, is probably one of the biggest decisions we'll make in our lives. Since we can't talk to our future selves to know if we made the right choice, often the next best option is to talk with someone who's been there before. Come to this Grand Session to discuss and gain insights into crafting a meaningful life – with or without kids – and to connect with others on a similar journey. 
The conversation will be led by our Grand Guide, Tresa Eyres, who has over 30 years of professional experience with business consulting, learning program development, group facilitation, team leadership, project management and more. She's lived and worked in Asia and Europe, traveled widely, and co-authored three business books on the topic of goal achievement. She currently mentors women in the U.S. and internationally around personal and professional development.
Tresa has a unique perspective to share as a business woman who, along with her husband of 50+ years, made an early decision to have children. Her adult daughters have taken two distinct paths – one single, living and working in the Bay Area, and the other living in Italy with husband and children. 
---
What's the timeline?
6:00 - 6:15 – Drinks, Appetizers, and Open Connection
6:15 - 6:45 – Introductions
6:45 - 7:00 – Grand Guide's Journey
7:00 - 8:00 – Group Discussion
8:00 - 8:30 – Closing Conversations
What is a Grand Session?
A safe space where you can have an honest conversation around a specific topic with 6 to 12 peers who are in the same unique position and with a Grand Guide who's been there before.
What can I expect?
The Grand Guide will share her personal story to spark the conversation on the topic. She then leads a facilitated conversation so everyone has a chance to join in the discussion. Snacks and beverages will be served.