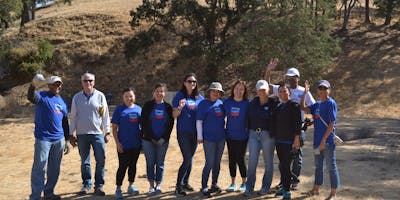 Diablo Restoration Team Workday - Ang
Diablo Restoration Team Workday – Ang
Enjoy a morning alongside large, aged oak trees and rolling hills as we cultivate our habitat restoration site at the Ang property. Here, we have planted oaks, buckeyes, and willows, in hopes of improving tree canopy coverage and riparian habitat. Learn about habitat restoration as we water, mulch, and weed the planted areas. Be sure to dress in layers; bring your favorite pair of sturdy shoes, plenty of water, and sunscreen. 
Our volunteer workdays happen rain or shine; please note there are no restrooms on site. 

Leader:  Roxana Lucero, Land Stewardship Associate, Save Mount Diablo
 
Meet: 1000 Peacock Creek Drive, Clayton, CA 94517 "Park and Ride"
 
Directions: From Clayton Road, drive towards Peacock Creek Drive in east Clayton. Turn into Peacock Creek Drive, and take the first right into the empty parking lot.