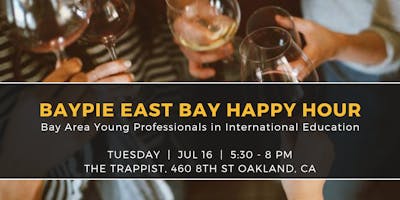 BAYPIE East Bay Summer Social: Oakland
Here's your chance to relax, network and maybe even make a few new friends with others in the field of international education. BAYPIE has organized another happy hour event in July, so we hope to see you there!

What: 
BAYPIE socials have no formal agenda, and attendees are encouraged to mingle and network. If your company or school/university is hiring, please bring information to share with potential job seekers.
When: 
Tuesday, July 16, 2019  |  5:30-8pm
Where: 
The Trappist in Oakland, located in a 1870s Victorian building within walking distance of the 12th St. Oakland BART. They offer Belgian and specialty beer plus delicious food in a cozy space.
Please RSVP to save your spot.
---
What are BAYPIE events?
BAYPIE events are open to all current and aspiring professionals in the field of international education, education abroad, international student and scholar services, intercultural services, international development, service-learning, and more. 
BAYPIE socials allow Bay Area international educators to network and create community across institutions and organizations. 
Brought to you by the 100% volunteer-run BAYPIE team
Rebecca Lubitz-Marchena, Hanni Geist, Yosefa Gilon, Anna McCreedy, Mert Abbasi, Kristin Southard and Daniella Lubey 
---
Connect with us
Join the BAYPIE LinkedIn group, email list, and Facebook Group to stay connected, and be the first to hear about upcoming BAYPIE events, jobs, and other opportunities in the Bay Area.