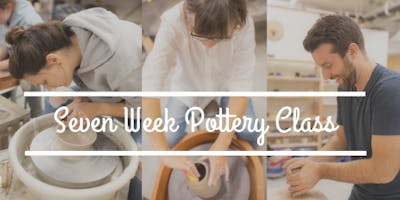 Pottery Wheel Throwing Class: 7 weeks (Tuesday July 16th- August 27th) 630pm-9pm
Classes cover basic wheel-throwing, hand-building, and decorative techniques, and is appropriate for ages 14 and up!  This class is perfect for beginner and advanced throwers. This class allow intermediate and advanced students the opportunity to pursue their interests with guidance if needed. Classes are limited in space to maximize personal attention.  Options are available for unlimited studio time and more clay. 
The class includes everything you need to start making pottery: group instruction, a 25lb bag of clay, tools, glazes, storage, and firings. Classes are appropriate for beginners through advanced throwers. All firing and finishing costs are included in price.  
This is a 7 session course and will take place once a week every Tuesday from July 16th to August 27th, from 6:30 PM to 9:00 PM.
There will be no makeup classes for inclement weather
Please don't hesitate about signing up after the session starts, please get into contact with us, and we can accommodate you up to a few weeks in.  Due to enrollment and scheduling, we can not always accommodate makeup classes.
Instructor Bio:
Lauren Gagnon grew up in Methuen, Massachusetts & attended Methuen High school from 2011-2015. She began working with clay in her third year of high school and pursued that interest and love at the Massachusetts College of Art and Design in Boston. She finished her Bachelor's degree as a ceramics major, graduating in spring 2019. Lauren loves to wheel-throw as well as hand-build, and is interested in many other aspects of ceramics. Along with painting, drawing, and weaving, she engages with art in a very personal way and loves all that it can do for her community. She has been a freelance instructor for all ages in the past four years and hopes to continue teaching.
Chelsi Hanley grew up in Lowell Massachusetts, currently a city with a vastly growing art community.  Attending Lowell High School from 2004-2008, she discovered a fast connection and love for ceramics. She carried this love to college where she pursued a degree in Fine Arts. 
At the University of Massachusetts in Lowell from 2008 to 2013,  she primarily concentrated in darkroom photography, sculpture, and ceramics.  Part of the reason she acquired the liking for these three mediums was the hands on the connection she could make with the material. 
Also the art teacher at the Boys & Girls Club of Greater Lowell, Chelsi helped youth gain inspiration for their art and life between 2011 and 2014.  She was also the manager of the Ceramic Studio for a bit of time before opening up her own business here in Lowell. Currently, she is the owner of the Pottery Mill as well as a middle school art teacher in the city of Lawrence, MA.