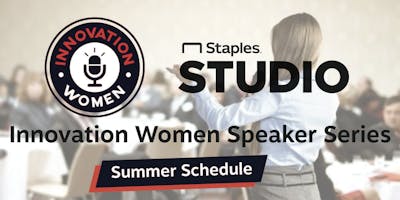 Time Management Strategies for Busy Moms at Staples Studio
Innovation Women has partnered with Staples for an Innovation Women Speaker Series at Staples Studio.
Join us as Amanda Gardner speaks about time management strategies for busy moms. After her presentation, network and get to know other leading women in the local business community. 
Sure, you can walk and chew gum at the same time, but can you work and parent and still be happy? Time sickness is the belief that time is always slipping away, that there is never enough of it, and that you must go faster and faster to keep up. Moms can get both physically ill as well as suffer time sickness when trying to balance work, life and family.. While working on her video game 'Perception' and caring for four children (including one toddler and one infant), Amanda Gardner HAD to learn to be flawless with her time management to insure the success of her debut game, in addition to being there for her family. The strategies she used helped free her from the constraints of not having too many hours in the day, and not enough energy to push through. She hopes to share her ideas to help elevate the wellbeing of moms everywhere.
Schedule:
6:00 - 6:15 p.m. - Registration and networking
6:15 - 6:20 p.m.- Introduction by Staples
6:20 - 7:30 p.m. - Time Management Strategies for Busy Moms by Amanda Gardner
7:30 - 8:00 p.m. - Networking- Light refreshments will be served  
Innovation Women (IW) is a self-service online platform, devoted to connecting female subject-matter experts to speaking and media opportunities. The platform has helped to connect more than 1000 women with speaking engagements around the world.
About Amanda: 
An indie video game developer, former English teacher and mom of four with a passion for mindfulness and meditation, Amanda's calling is to create and educate. Amanda is an advocate for working moms who need to create more space and time in their lives to accomplish what they desire. 
Whether she is speaking to Girls Make Games about how to write a video game's script, or speaking to Women in Games about how to use meditation to relieve stress during crunch time, her talents in speaking and her passion for her subjects make her a captivating guest. She is also a certified yoga and meditation teacher who has studied under New York Times Bestselling author Gabby Bernstein.