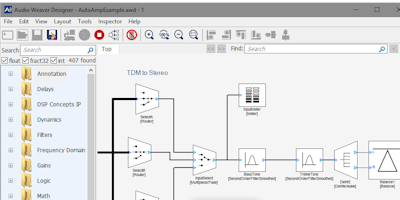 DSP Concepts
Easy Audio Tinkering
Sometimes you want to hear your audio ideas without building code or electronics.  Using Audio Weaver by DSP Concepts, your PC or a Raspberry Pi and your imagination, you can tinker with synths, effects, speaker tunings and much more -- all without writing a single line of code.  Express your ideas visually and intuitively on the design canvas using a wide variety of audio building blocks including signal generators, VCOs, filters and look-up tables. Then, with the press of a  button, you can listen to your creation and tune it up in real-time. If you happen to have your own hardware and want to write a little code, it's also pretty easy to turn your shiny new idea into a product. 
In this hands-on meeting Steve Isabelle (signal processing guy) and Andrew Perrin (a guitarist/producer, software developer and Berklee grad) will discuss the basic operation of Audio Weaver. We will build up a simple synthesizer and a couple of guitar effects. The designs will be created/tested on the PC, and then we will port them over to some hardware to demonstrate the ease of use. 
Then, we'll open it up to your ideas with a few  Audio Weaver setups in the room for you to try out.  The evening ends with a giveaway of a couple of 1 year Audio Weaver licenses and Raspberry Pis.
dspconcepts.com
(pizza, salad and soft drinks will be provided)