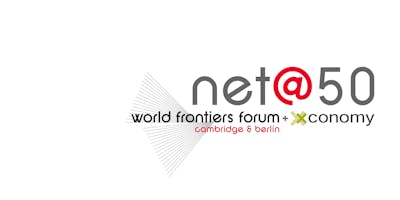 Net@50
For the full list of speakers and event information, visit our event site.  
Net@50: The Roots and Future of the Internet
It is a year of Internet milestones. The first message was sent over Arpanet, precursor to the Internet, 50 years ago this October. The World Wide Web turned 30 this March. And 2019 marks the first year that more than half the world's population—more than four billion people—have Internet access.
The Net has well and truly changed the world—enabling unprecedented communication, widespread access to education and ideas, and a range of services that have improved business and quality of life globally. That same technology platform, though, is increasingly a tool for misinformation, fraud, and even cyber warfare and repression.
Net@50 is a special two-part gathering taking a critical look at the Internet today and where it is heading—part of a new exploration by the World Frontiers Forum into ways to enhance and protect digital identity, privacy, and safety.
An afternoon forum at the MIT Media Lab will explore the big issues surrounding the Net. A gala dinner in nearby Kendall Square will honor the Internet's pioneers and bring together past, present, and future technology and business leaders. 

Join us, and Internet Pioneers from around the world, for this special day.

Twitter:
@Xconomy
#net50

Schedule:
Registration & Networking: 12:30 - 1:15 pm
Program: 1:15 pm - 5:30 pm
Networking reception: 5:30 - 6:30 pm
Gala Dinner: 7:00 - 9:30 pm

Registration:
Tickets are transferable but not refundable.
To inquire about press registration, contact events@xconomy.com.
*Speakers and program schedule are subject to change.