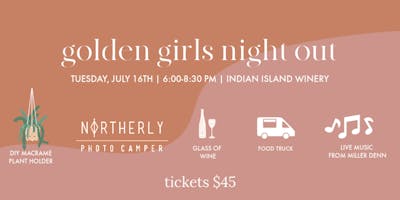 Golden Girls Night Out by Vanilla & Gold
Love having fun with your girls? Us too. Let's all hang out together.
Come hang out with Vanilla & Gold for our Golden Girl's Night Out at Indian Island Winery on Tuesday, July 16th from 6:00-8:30 pm. 
DIY macrame plant holder, a glass of wine & snacks from a food truck are all included in your price!
We'll also have Northerly the photobooth camper to capture you and your girls along with live music by Miller Denn all night! 
AND giveaways from your favorite local shops!
Text your girls, tell them you've got plans. Can't wait to see you there!