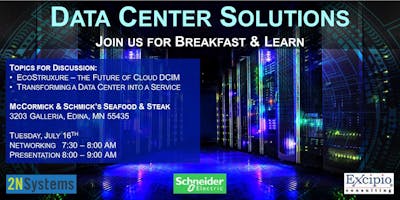 Data Center Solutions
Join 2NSystems, Excipio Consulting, and Schneider Electric for a breakfast-and-learn focused on the changing landscape of data center solutions, specifically around Data-Center-as-a-Service and how it compares to your traditional data center.

Ryan Dame from Schneider Electric will be presenting on the topic of "EcoStruxure – the Future of Cloud DCIM". Ryan is the manager of Schneider StruxureWare for data centers. For more on this, visit EcoStructure.
Jeff Gilmer, Senior Partner, Excipio Consulting LLC will be presenting. With over 30 years consulting, Jeff has worked with hundreds of organizations, assessing their unique requirements and capabilities to create comprehensive, successful strategies. Jeff is also a regular presenter at industry events such as Critical Facilities Summit, and AFCOM Data Center World.

*Note: Be sure to click "Add to your Calendar"
Your Hosts
Schneider Electric
https://www.schneider-electric.us/en/
2NSystems
Excipio Consulting