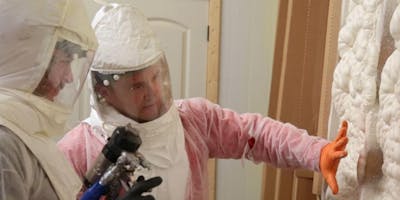 3 Day Training - Better Management of/Getting Into the Insulation Business | Minneapolis, MN
Managing or getting into any business can be risky, but the risks go down and the rewards go up dramatically when you partner with resources familiar with the business. When it comes to the world of Insulation, no one helps more contractors, and understands the business of insulation better than IDI. IDI's Insulation 101 program is a hands on event that not only introduces you to the business, we also follow up with you and continue to be the resource you need as your company grows.
Topics covered at the event are:
HOME PERFORMANCE & RETROFIT SELLING:
Almost every home you walk into, you find missing insulation and vent chutes, or poorly sealed spaces, and
homeowners who are not happy with their dusty, drafty, uncomfortable homes. We will not only discuss the
opportunity, we will talk about the testing, the fixes, some case studies, the products, gaining the customer's
trust, and how to sell your services.
COMMERCIAL RETROFITS:
Diagnosing and Air Sealing Large Commercial and Residential Apartment Buildings. A building may have been
built right years ago, but seals age, materials shift, mechanics wear and people have install holes, chases, and damage throughout the building. As buildings change, the environment for machines, occupants, livestock and protected assets changes along with it. Damage and large financial losses can be attributed to air leakage and failures. We will discuss the most common problems, fixes, areas of opportunity, ROI and understanding what really matters in commercial retrofits.
THE BASICS OF HIGH AND LOW PRESSURE FOAMS
As the largest trainer of spray foam contractors, IDI's goal is to present you with insight into the market, the
tools, costs, and the challenges of getting into spray foam. From technical training on equipment and
processing, to safety and regulations, we have the best resources in the industry. This class is an opportunity
to consult with industry experts, rather than sales people, to help you decide if SPF would be a good fit for you.
THE GOOD, THE BAD & THE UGLY OF BUYING EQUIPMENT IN THE INDUSTRY
Whether its fiberglass, spray foam or coatings, equipment is a major part and expense of this industry. Cost can be greatly affected by the type of equipment you get and the maintenance programs you have in place. This portion focuses on best practices and what to avoid. 
BUILDING SCIENCE BASICS:
High performance buildings are great when it comes to energy bills, but now the building must work as a system. Today, understanding the building envelope and how it affects mechanical systems, drying potential, and indoor quality is critical. As an insulator, it is also your best defense in avoiding an expensive mess when things go wrong.
CHANGING BUILDING CODES & THE BUILDING ENVELOPE
There is no doubt that codes and building envelopes are changing. Our goal is to shed some light on how they
will affect the market and the opportunity these changes present for your business.
BLUEPRINT READING + JOB BIDDING
Do you struggle landing jobs off of blue prints? In this class we'll walk you through the basics of reading a blue
print, how to get more accurate take offs, and how to use industry averages to ensure you win more jobs. We
will also cover stud, window, and door deducts, net footage vs gross footage and more.
BUSINESS MANAGEMENT
Our business development experts will walk you through the basics of using insulation to start a new business or grow an existing one. We'll cover inventory control, job costing, marketing, profitability and more. 
Due to class size restrictions, all classes require a $150 deposit that will be credited towards your IDI account upon class completion.
Space is limited and spots go fast! Register online to reserve your seat!
Complimentary continental breakfast, lunch, and afternoon snacks will be provided. Attendees are responsible for making their own travel and lodging accommodations.
Book a room at the Chanhassen Holiday Inn Express and mention IDI for a discounted rate! Room cut-off date is June 15, 2019 Book Online or call 877-666-3243
Questions? Contact your local sales rep:
Wes Ruprecht | Direct: 952-279-6602 | Cell: 612-845-5560
Travis Pankake | Direct: 952-279-6603 | Cell: 952-221-1339
Justin Linder | Cell: 612-434-3545
Chris Kelly | Direct: 952-279-6691 | Cell: 763-486-7232
Daja Oliver | Cell: 763-310-6685