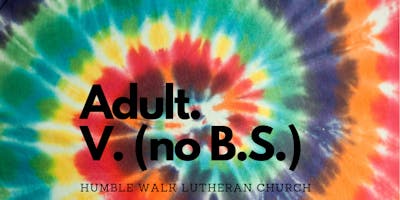 Adult V. (no B.S.)
Humble Walk Lutheran Church presents V. (no) B.S. for adults (18 and up)
July 15-17, 2019 - 6:00 PM - 9:15 PM
Snacks, Singing, Bible Stories, Art making, Games.
Featuring bible study leaders Nadia Bolz-Weber and Phil GebbenGreen, art with Josie Lewis, song leading with Paul Friesen-Carpenter.
Your registration includes all three sessions. We strongly encourage you to attend all three nights for the full experience. 
Nadia Bolz-Weber is the author of two 
New York Times 
best selling memoirs: 
Accidental Saints: Finding God in All the Wrong People
 and 
Pastrix: The Cranky, Beautiful Faith of a Sinner & Saint
. The founder and former pastor of a Lutheran congregation House for All Sinners and Saints, she speaks at colleges and conferences around the globe.
Phil GebbenGreen
 is a Co-Pastor with his wife, Julie, at Edgcumbe Presbyterian Church in Saint Paul, Minnesota.  They have three teenagers who are freakishly tall and typically stubborn.  Phil teaches the Enneagram personality system in a Women's Prison outside of the Twin Cities.  He likes crazy Bible talk, chainsawing, and reading Fantasy literature.  Phil and Humble Walk Pastor Jodi Houge have been leading storytelling events together for five years.
Paul Friesen-Carpenter is a church musician, singer, songwriter, and multi-instrumentalist, who loves what the Spirit does when people sing together. He has written a lot, led song in a lot of different communities, and listened for God's voice in the people around him for a long time. He serves as assistant director of music at Gloria Dei Lutheran Church in St. Paul, MN, loves Irish Trad and Star Trek.
Josie Lewis is an artist working in Minnesota. Her current work spans many artistic media, including sculpture, painting, mixed media, and video.  She has artwork in the public collections of General Mills, UC Berkeley, The St Paul Regional Rail Authority,  Minneapolis Public Schools and The Minneapolis/St Paul Airport.  Lewis has a robust social media in Instagram,  Facebook, and Pinterest, TikTok, and YouTube as @josielewisart with over 1 million unique followers.   As of this writing, Lewis' videos have had more than 1 billion views. Her work has been featured by Design Sponge, Good Housekeeping, Elle Decor, Insider, My Modern Met, George Takei,  Bored Panda, Mental Floss, Cosmopolitan, Spotlight, The Jealous Curator, and The National Endowment for the Arts. Her book, The New Color Mixing Companion, was released in 2018. She lives in the Twin Cities with her husband and daughter.
Attendees should note that Art House is accessible by stairs only. There are 8 steps from sidewalk to a split floor landing with 15 additional steps up to the main floor sanctuary and 20 steps down to the lower level (bathrooms are on the lower level). Please inquire if you have questions or we can assist.