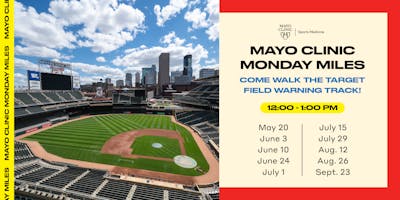 Mayo Clinic Monday Miles
The Minnesota Twins and Mayo Clinic Sports Medicine have teamed up to promote health and wellness during the Twins 2019 regular season.  The Mayo Clinic Monday Miles walking program provides the opportunity for downtown working professionals to take advantage of the lunchtime sunshine and walk the warning track at Target Field.  Mayo Clinic Monday Miles will take place ten times throughout the summer. Participants should enter through Gate 29 to check in and begin their walk. Following each event, participants are encouraged to walk to Mayo Clinic Sports Medicine (skyway level of Mayo Clinic Square) for some 'enter to win' opportunities and to hear more about the services offered at that location.

*Sign up is required through the eventbrite link above.
In the event of inclement weather, participants will be notified of cancellation via email at least 2 hours prior to walk start time.