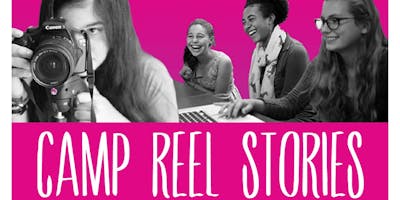 Beginner Oakland Filmmaking Bootcamp July 2019
Reel Stories' Beginner Filmmaking Bootcamp is for 12-18 year old girls and gender non-conforming youth (rising 7th-12th graders.)
In this program, attendees get to work in small, collaborative groups, to write, shoot, edit and broadcast their own short films. Camp Reel Stories is the only media program led by professionals in the Media Industry.  Join us this summer to show the world your stories.  Your audience is waiting!
WHEN: July 15th through July 26th, 2019, Monday-Friday, 9am-3:30pm
WHERE: 1st week: Oakstop (14th Street location), 2nd week: Dept of Make Believe in Oakland
Post Camp Film Festival: Saturday, July 27th, 10-12noon at California Theatre, 2113 Kittredge St in Berkeley
Tuition payment is due at time of registration. For this program, tuition is $900 per attendee. We ask that those who are able to pay this full amount, please do. Sliding scale options available and honor-based. If you think you may need further financial assistance than the sliding scale options offered, please email corinne@campreelstories.com. No one is turned away due to lack of funds.
For more information about our programs, please check out our website: www.campreelstories.com