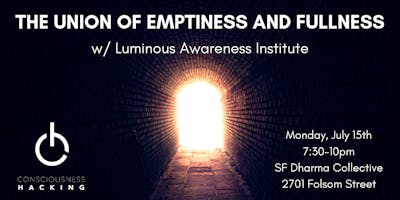 The Union of Emptiness and Fullness w/ Luminous Awareness Institute
Consciousness Hacking is excited to welcome back Anna-Lisa Adelberg, founder of the Luminous Awareness Institute for this special two-hour interactive workshop. 
Have you ever had an experience in which you accessed a sense of pure consciousness, empty boundless nature, or the alive dynamic fullness that animates everything? Sometimes these experiences happen after many hours of deep meditation, or a powerful psychedelic experience, or even spontaneously. 
What is exciting is we can actually train ourselves to connect to this living wisdom. Specific energetic tools and techniques, based on the most powerful wisdom traditions merged with elements of modern psychology can allow us to tap into this experience of boundless awareness. These methods give us a direct taste of emptiness and the experience of being interconnected with everyone and everything.
In this two-hour experiential, Anna-Lisa will guide us into shifting our levels of mind into new forms of awareness and then co-creating a circle to  harness the power of our collective awareness and create an amplified energetic field where healing and expanded states of consciousness become viscerally real. In just a couple hours together, we can create a container that is profoundly heart warming, magical, and energetically rich.
Luminous Awareness Institute is the integration of a healing and nondual awakening path dedicated to the evolution of human consciousness. They combine psychological and subtle energetic healing into the path so that awakening becomes not a means to transcend life, but to embody its wisdom and deep compassion in life.
Learn more about Luminous at https://www.luminousawareness.com. 
Do you love Consciousness Hacking? Want free entry to events? BECOME A MEMBER! 
Membership gives us the ongoing support we need to keep Consciousness Hacking going strong! Plus, members get free admission to one CH event per month! Membership is just $10 per month, and If you buy a year of membership upfront, we'll give you two months (that's two events) for free!
Become a member here: https://www.joinit.org/o/ch

Current members: Please register using the discount code emailed to you!
Want to volunteer at this event? Email Josh at meadow@cohack.life for more info. 
No one turned away for lack of funds. 
Photographs and video containing your image may be published by Consciousness Hacking without explicit permission.
**Refunds only available via Eventbrite 7 days or more before the event! You can sell/transfer tickets to friends at face value**