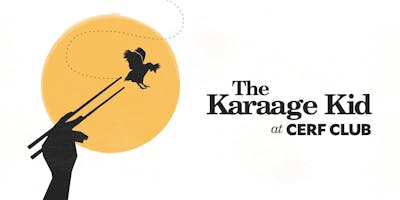 The Karaage Kid at Cerf Club
The Karaage Kid x Stag Dining
Monday, July 15: Seatings starting at 5:30pm
Cerf Club, 925 O'Farrell Street, San Francisco
Cerf Club welcomes you to join us for a one-night-only pop up with Chef Rich Lee, previously of Hong Kong's Yardbird (World's 50 Best Restaurants Asia).
Chef Rich Lee is teaming up with Stag Dining chefs Jordan Grosser + Ted Fleury for a fried chicken party featuring dishes inspired by Chef Lee's tenure at Yardbird Japanese gastropub in Hong Kong, and in the kitchens of San Francisco's In Situ and Namu Gaji.
Hosted at Stag Dining's Cerf Club event venue, The Karaage Kid will be an upbeat affair with food, sake, session cocktails, beer, and Stag's own Cerf Club wines, served with an 80's soundtrack. There may even be a special vewing of a certain movie...

Your $65 ticket buys you the entire menu! (Gratuity, tax and fees are added at time of purchase.) Beverages are available à la carte.
M E N U
Pending! Stay tuned.