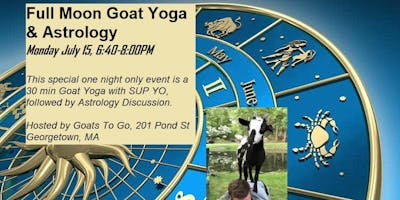 Full Moon Goat Yoga & Astrology Night
Join us on the farm for a special Full Moon Goat Yoga & Astrology Night.  This event will feature our adorable and playful baby fainting goat kids who will help you with your 30-minute Goat Yoga taught by the talented Jana of SUP YO!  Following yoga will be a 30-minute Astrology discussion. 

Description: Goat YOGA session includes 25 minutes of gentle yoga while the goats interact with you, and a 5 min cool down seated poses while you continue to hold, pat, snap pictures, and feed goat treats. Following this, Gabrielle will share her passion for astrology with you.  She will lead you in a focused group discussion about your zodiac and astrology sign meanings & characteristics.  If you are new to astrology, it is the study of the movements and relative positions of celestial bodies interpreted as having an influence on human affairs and the natural world. This will be the basis for our discussions for each participant's astrology, horoscope, & zodiac signs to help you focus these energies on positive aspects and gain an understanding of your traits.

Location Description: Our classes are held on our beautiful 50+ acre farm, Great Rock Farm, in Georgetown, MA. We want you to get the full affect of a true farm-yard goat yoga and snuggle experience by partaking in these events with farm animal sounds and smells all around you. Plus the kids are most comfortable when they invite you into their own surrounds. The majority of the classes are held overlook the water on a stunning grassed area with a white picket fence and flowers. And our rain location is just as remarkable: a rustic and clean 5-story post and beam barn with hardwood floors.
This event will be held rain or shine. Please arrive at least 15 mins before class to sign-in.
Tickets: $30 per person. Tickets are non-refundable. Appropriate for ages 12+ yrs old (5-11 allowed with adult participation). Please bring your own yoga mat or towel.  Mat rentals are available for $5. NOTE: You must go to our website to register if you're using a Gift Certificate!