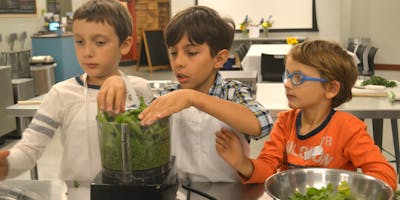 Cook Local: Family Cooking Class with Project Bread

Cook Local: Family Cooking Class with Project Bread
Presented by The Trustees
The KITCHEN is honored to host Project Bread this summer for a low-cost cooking class for families that celebrates local, seasonal food and local farmers and food artisans. In this fun hands-on class, families will learn how to create healthy, tasty recipes that they can make at home. Taught by Chef Educators from Project Bread's Chefs in Schools program, attendees will be guided through each step of the recipe, all the way through to clean up. The recipes will incorporate seasonal ingredients from the Boston Public Market and kid-friendly cooking techniques to foster a love of cooking and healthy eating.  
These are hands-on cooking classes. Families (child and a parent or guardian) will create 1-2 dishes per session, and will eat what they've made at the end of class! Each child must be accompanied by at least one adult. 
Classes are offered on Monday evenings from July 8th through August 12th. There are two sessions each Monday. The first session is for children age 6-10 and the second session is for children age 10-14.
All tickets are $5 per person. Scholarships also available. Please email kitcheninfo@thetrustees.org to inquire about scholarships. 
Parents & guardians: Please plan to stay in The KITCHEN during the class; this is NOT a drop-off class, so you must purchase an adult ticket in addition to a child ticket. IF YOUR CHILD HAS A FOOD ALLERGY, please email kitcheninfo@thetrustees.org at least 3 days in advance to inquire about the recipes. Unfortunately we cannot modify recipes for these events.
Note: Menus will be determined on the day of the class based on what's in season that day at Boston Public Market farmers and food artisans.
For Kids Age 6-10



Monday, July 8th | 4-5PM 


Monday, July 15th | 4-5PM


Monday, July 22nd | 4-5PM 


Monday, July 29th | 4-5PM


Monday, August 5th | 4-5PM


Monday, August 12th | 4-5PM


For Kids Age 10-14



Monday, July 8th | 6-7 PM 


Monday, July 15th | 6-7 PM


Monday, July 22nd | 6-7 PM 


Monday, July 29th | 6-7 PM


Monday, August 5th | 6-7 PM


Monday, August 12th | 6-7 PM



About Project Bread
Project Bread is a leading statewide organization committed to ending hunger for Massachusetts residents of all ages. In collaboration with key partners, we deploy a two-pronged approach to achieve this goal: provide immediate relief to those who are hungry today and eradicate the systemic causes of hunger. Project Bread's Chefs in Schools program trains school food service staff how to consistently prepare healthy, tasty meals and introduces a broad range of new foods to students. This year, Chefs in Schools is operating in Amherst, Athol, Codman Academy, Greenfield, Lawrence, Medford and New Bedford.

Chef Bios
Chef Sam Icklan is the Director of Chefs in Schools at Project Bread. Before joining the Chefs in Schools team at Project Bread in 2015, Sam worked in restaurants, school cafeterias and summer camps, including as a Chef Instructor at the Claremont Preparatory School in New York City, and as the head chef at Camp Aranu'tiq of Harbor Camps. Sam holds an MS in Food Systems and a professional certificate in Sustainable Food Systems Leadership from the University of Vermont.
Chef Ryan Eckles is a Chef Educator at Project Bread. He previously served as the Senior Teaching Assistant and Lead Chef at Mount Diablo High School in Concord, CA and a Foodwise Kids Instructor at the Center for Urban Education about Sustainable Agriculture in San Francisco.  Ryan attended the San Francisco Baking Institute and the College of Wooster in Ohio.
About The Trustees and The KITCHEN
As one of the largest owners of agricultural land and the premier steward of the cultural and natural landscape of Massachusetts, The Trustees extends its leadership to transform the local food system by connecting residents and visitors back to the land and sharing the Commonwealth's collective agrarian heritage through innovative retail and educational experiences at the Boston Public Market in the heart of downtown Boston.
The KITCHEN is a community gathering place, managed by The Trustees, that is restoring the craft of seasonal cooking in Massachusetts, New England, and beyond through hands-on classes and educational experiences that celebrate the farmers and artisans of this region. Partnered with the Boston Public Market, The KITCHEN embraces a whole-food approach to eating and promotes cooking as an essential cornerstone of a sustainable food system.
Join The Trustees and receive 20%-50% off all classes, workshops, and events at The KITCHEN and all Trustees properties.
Program Refunds/Cancellations: In the event that a program is cancelled due to severe weather, low enrollment, or other circumstances, we will notify you as soon as possible by email and issue you a full refund within 14 days of the cancellation. If you cannot attend a program as planned, contact kitcheninfo@thetrustees.org at least 7 days prior to the start of the program to receive a full refund. Refunds will not be granted for registration cancellations placed fewer than 7 days before the start of the program. There are no refunds for missed classes. The KITCHEN reserves the right to change program locations, schedules, or instructors when necessary.