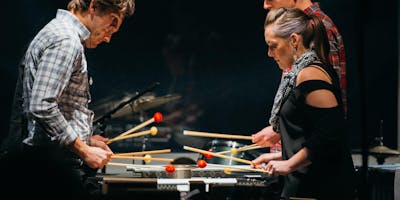 GroundBeat: Kadence Arts at the Hatch Shell
The Esplanade Association presents GroundBeat: The Esplanade's Free Riverfront Music Series-- Kadence Arts at the Hatch Shell on Monday, July 15.
The GroundBeat Music Series returns with Kadence Ensemble, the premiere percussion-focused music group of New England. Experience a night of live dance and upbeat music brought to you by the Kadence Ensemble's high-energy performance.
Kadence Ensemble is directed by international touring artist, Maria Finkelmeier, who has previously been named a "one-woman dynamo" by the Boston Globe. A variety of Finkelmeier's percussion-focused songs from her debut album will be featured during the performance, along with Terry Riley's famous journey in improvisatory minimalism called "In C" by a 15 piece band. Along with being the founder and director of Kadence Arts, Finkelmeier is notable for being a percussionist, composer, educator and arts entrepreneur. She has toured internationally as both a soloist and member of various ensembles, as well as a percussionist in the Baltic Sea Philharmonic.
All events in the series will feature food trucks, games, and new seating!
ABOUT GROUNDBEAT
As part of GroundBeat, the Esplanade's FREE Riverfront Music Series, each month from June to September, the Esplanade Association will partner with a different local nonprofit to showcase a diverse set of performers and musical styles in an effort to promote local live arts and to attract audiences of all backgrounds to the park. Learn more at Esplanade.org/GroundBeat.